Rock Garden
Uncommon plants thrive in this stunning landscape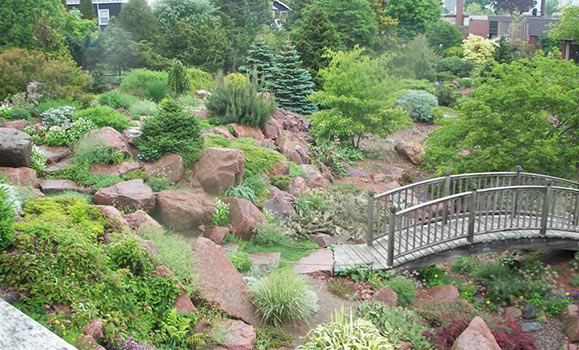 The Rock Garden is a gift to the Agricultural Campus from the Friends of the Garden. The Friends is a dedicated group of approximately 25 volunteer gardeners who help maintain the specialty gardens of the campus, as well as raise funds for new garden initiatives. The Friends are coordinated by Mr. Bernard Jackson, who retired to Truro after spending 22 years developing the Oxen Pond Botanical Garden in Saint John's, Newfoundland and Labrador. The rock garden is a centre for education concerning alpine and saxatile plants, and how to create effective habitats in which to grow them.
The rock garden covers just over one-half acre of land, and is situated on a south facing slope. It consists of a rock face, two dry streams, a gravel scree bed, and a damp area. The rock face contains large crevices that will be planted with plants that will spill and tumble down over the rocks. The dry streams are located in two gullies, designed to look like old, rock lined erosion gullies. These will provide a place for plants that like to sprawl down a bank. In addition, the dry streams will collect and carry rain water away from the garden.
The gravel scree bed starts at the base of the cliff face. It mimics areas of gravel that are created when weathering of cliff faces breaks away small pieces of stone. The scree bed will provide habitat for deep rooted plants that grow in the driest conditions. The damp area will be the area where run-off water is collected. It will be home to plants that want to grow in full sun, yet have a need for very moist soil.
The rock garden provides a wide variety of habitats for plants.
It is entirely created using Colchester County stone.
It is a remarkable collection of plants, providing opportunity for botanical study.
It provides a facility for the teaching of rock garden construction.
The rock garden, in conjunction with other campus gardens, is a tourist attraction for the Truro/Bible Hill area.
The garden contains 450 tons of local red granite. It features a collection of dwarf conifers and alpine and saxatile plants. The garden not only beautifies the campus but also offers environmental horticulture students opportunities to gain experience with uncommon plants. The garden also features two cedar bridges constructed by students in the wood construction techniques class.