Three questions, each answered in 150 words or less. One-Minute Meeting is a quick and easy way to get to know more about your colleagues, new and old. Learn how you can nominate someone at the bottom of this post.

Today's meeting is with Caitlyn Hutchison, Manager of Residence Operations on Dal's Agricultural Campus.
 
What's your favourite thing about working at Dal?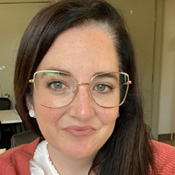 The people! I love getting to know my colleagues and the students here.  I have built a lot of positive relationships that have turned into working collaborations and lasting friendships. I've been lucky to be surrounded by so many people from diverse backgrounds. I love being able to learn from others , bounce new ideas off of one another, and problem solve together.



Which has been more valuable in your career, your education or your experience, and why?

I have benefitted from both for sure — I'm a Nova Scotia Agricultural College Alum and really value the education I received. However, I would have to say my experiences have been the most helpful in my career. Every challenge and achievement I've faced have allowed me to continue learning and growing. I've had the opportunity to be involved in some exciting events like the merger with Dalhousie, many orientations, hosting athletes for international competitions and being part of facility renewal projects. There is rarely a dull moment in residence operations!
 
When you're feeling tired and worn out, what is your go-to strategy for regaining balance?

I like to get outside. Going for a walk or a trip to the beach always helps to give me some quick energy. I have recently become very interested in gardening, too. I can spend hours digging and cutting in my yard and it always leaves me feeling accomplished and calm. If none of that works, reading, cuddling with my daughter and dog and a nap will usually do the trick!
Now, nominate someone you'd like to see on One-Minute Meeting.
Previously on One-Minute Meeting: