Three questions, each answered in 150 words or less. One-Minute Meeting is a quick and easy way to get to know more about your colleagues, new and old. Learn how you can nominate someone at the bottom of this post and read more about the series on Dal News.

Jake MacIsaac is assistant director of Security Services at Dalhousie.
What's your favourite thing about working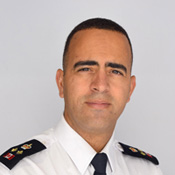 at Dal?

Near the top of the list would be attending convocation. I usually stand in the back of the auditorium and peruse the list of graduates looking for familiar names. In my work, I don't always meet folks on their best day, but as my "friends" stroll excitedly across the stage, I feel deeply proud to now have a better moment to experience with them. I clap and cheer at the opportunity Dal has given me — a security guard — to share in the academic mission of the university. Not all lessons are learned in the classroom or lab. Many times, I've had the privilege to sit with students as they hear from others about the impact of their negative behaviour while making commitments to do better. These can be hard conversations, but I believe the learning outcomes last a lifetime.
What's the most surprising thing we might see on your resume/cv?

Folks might be surprised to learn that I co-host a podcast called "The Disorienting Dilemma" that focuses on a range of topics through an Equity, Diversity, and Inclusion (EDI) lens.  From corporate social responsibility to the neuroscience of restorative justice (and lots of things in between) episodes are designed to provoke thought and conversation. There's very little pretense to it –more an everyday perspective not an expert one.
What's the strangest job experience you've ever had?

If by strange we mean "unusual" then I think it goes back 20 plus years to when I co-founded a non-profit called Ark Outreach. Our mission was overly simplistic at the time. It was not to "fix" homelessness or hunger. Instead find ways to just be the place of refuge during the storm. It wasn't about the number of meals served or beds filled. This was relational work hinged on making genuine connections. Those community members ended up giving back to me (through trust, friendship, and understanding) far more than I could ever bring.  Going into the work with a desire to "help" and ending up receiving exceedingly more than I contributed was in one word… strange.
Nominate someone at Dal you'd like to know more about by emailing today@dal.ca with OMM in the subject line. Please provide contact information for the person you are nominating and let us know if you are comfortable with them knowing you nominated them (in case they ask). We'll then send the nominee an email seeing if they'd like to participate.