Three questions, each answered in 150 words or less. One-Minute Meeting is a quick and easy way to get to know more about your colleagues, new and old. Learn how you can nominate someone at the bottom of this post and read more about the series on Dal News.
Today's meeting is with Linda Parker, Director of Housing and Conference Services at Dal.
What's your favourite thing about working at Dal?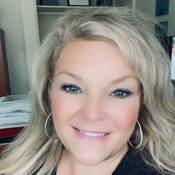 There are so many things that come to mind when asked this question, so it is hard for me to pinpoint one thing. I have been at Dalhousie for over 30 years, and I have had the pleasure of making lasting connections with some amazing students throughout this time. I also get to work with some remarkable colleagues in my department as well as many areas of the university. Some of the most memorable moments have been in real crisis situations. It is energizing knowing that you have a group of colleagues that are always there to help in a crisis, and there to pick you up.
 
What's the most surprising thing we might see on your resume/cv?
 
I think that people would find it surprising that I am an owner and caretaker for a Standard Bred Race Horse. I spend most of my Sundays at Truro Raceway with my husband racing. This is a passion that I have only been involved with the last seven years, but it is a lot of fun. I also have a miniature horse named Heidi, who some might remember her being on campus a couple years ago. She was there during exams and was a great stress reliever for students. She was happy to get a few extra carrots that day!
 
What's the strangest job experience you've ever had?
 
Over 30 years, there has been a few! One that comes to mind is when the city was hit by Hurricane Juan. At the time, the university owned Fenwick Place, which was the tallest building in Halifax. The windows were no match for the strength of the sustained winds of a Category 2 hurricane. There was nothing more surreal or strange to come to campus to see mattresses and debris from the building in the cemetery across the street. Hopefully an experience we do not have to deal with again.
Now, nominate someone you'd like to see on One-Minute Meeting.

Is there someone at Dal you'd like to know more about? Email today@dal.ca to suggest them for a One-Minute Meeting. Please provide contact information for the person you are nominating and let us know if you are comfortable with them knowing you nominated them (in case they ask). We'll then send the nominee an email seeing if they'd like to participate.
Previously on One-Minute Meeting: