Today@Dal
»
Go to news main
Pets of Dalhousie: Meet Hermes and Loki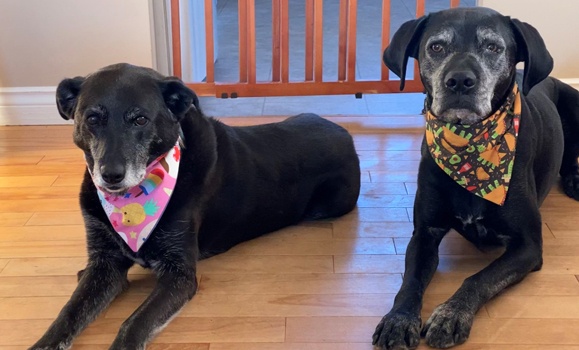 Hermes and Loki live with Jennifer Pierce, a development coordinator in the Office of Advancement.

(Find information on how to submit your own pet's profile at the bottom of this profile.)
Hermes
Name: Hermes, after the Greek god, not the fancy scarves

Nickname: Hermie, Herman, Hermie-Wormie, Wiggle-Butt

Species/breed: Boxer-lab cross

Age: 10

Fave food: If it is food, or if it touched food once, he will eat it.

Special tricks: Finding the tiniest bit of space to fit on the couch when you tell him there is no more room.

Best quality: Pure love and snuggles

Social media platform or handle, if available: He has a hashtag, #itwasHermes, for his many adventures.
Loki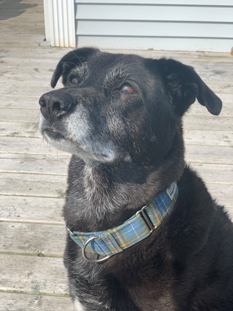 Name: Loki, after the Norse god, not the Marvel character (she came first!)

Nickname: Loki-Lou, Lou-Lou, Wiggle-Nubbin

Species/breed: we joke she was put together by committee. She's a super mutt

Age: 12.5

Fave food: Mushrooms. She will do anything for a mushroom.

Special tricks:  She can give high five- and ten, shake paws, sit pretty, spin in a circle, and hold a treat on her nose until given permission to eat it.

Best quality: Calm sweetness

Social media platform or handle, if available: Her hashtag is #LokiToo because even though she's older, Hermes is the bigger goofball and she tags along.

Want to tell the Dal community about your beloved pet? Forward along your image(s) and information using the above categories to today@dal.ca

Read more about this series on Dal News. And don't forget to check out the previous pets we've featured in this space this month, including Hamish, Maple, Paulomer and Declan, as well as those from previous months:

The month in pets: January

The month in pets: February