Today@Dal
»
Go to news main
Pets of Dalhousie: Meet Maple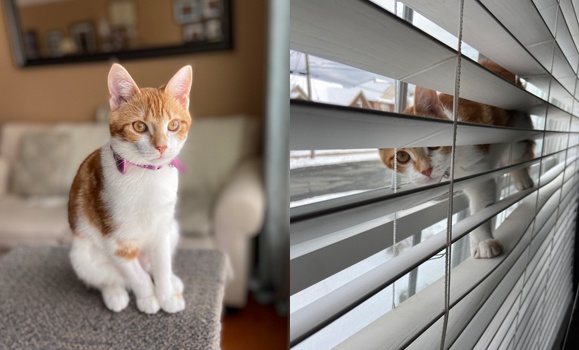 Maple is a domestic short-haired tabby who lives with J.J. Choo, a staff member on the Student Accounts team.

(Find information on how to submit your own pet's profile at the bottom of this profile.)
Name: Maple
Nickname: Mapes or Mapey
Species/breed: domestic short haired tabby
Age: 6 months

Fave food: Just about anything she can get her paws on, especially whatever she can find on the kitchen floor. She loves to lick cereal bowls too.
Special tricks: Maple comes running whenever she hears someone at the door so she can greet that person by smelling them and licking their face. She also comes running when you tell her it's time to get the mail ,and she let's you bundle her up in your coat or sweater and enjoys a walk to the mailbox.
Best quality: She give kisses and loves to cuddle with everyone.
Social Media platform or handle, if available: On Instagram @chibi_maple
Want to tell the Dal community about your beloved pet? Forward along your image(s) and information using the above categories to today@dal.ca
Read more about this series on Dal News. And don't forget to check out the previous pets we've featured in this space: