Today@Dal
»
Go to news main
Pets of Dalhousie: Meet Hamish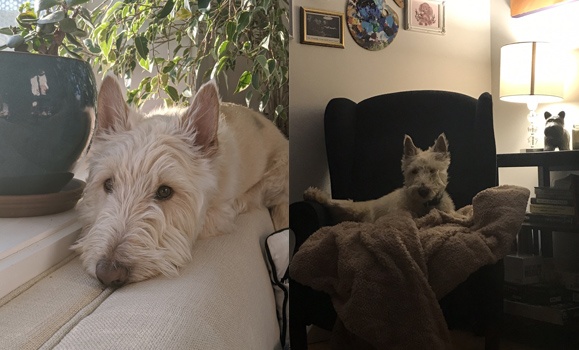 Hamish is a Scottish Terrier who lives with Julia Rodgers, a PhD candidate in the Department of Political Science.

(Find information on how to submit your own pet's profile at the bottom of this profile.)

Name: Hamish

Nickname: Hammy or Hambuglar

Breed: Scottish Terrier

Age: 6

Fave Food: Actual garburator (but mostly meat since I'm in vegetarian and it's a special treat😅).

Special Tricks: Selective hearing, thinking he's a big dog, or just generally being a ✨mood✨

Best quality: The sass — he can often be spotted on Zoom calls lounging on my bed and giving side eye.
Social media platform or handle, if available: N/A
Want to tell the Dal community about your beloved pet? Forward along your image(s) and information using the above categories to today@dal.ca
Read more about this series on Dal News. And don't forget to check out the previous pets we've featured in this space, including Camden, Juno, Bristow and Milo, Uke, Birdie, Varric, Toby, Charlie, Shuri, Ranger and Hazel, Darla, MacKenzie and Nicola, Harley, Gus, Ceilidh, Luna, Ruby, Matilda, Aymei, Harley, Sampson, Cayda, Bailey and Leopolda.