This article is part of a series focusing on the grads of the Dalhousie Class of 2023. Spring Convocation runs from May 29 to June 7 in Halifax and Truro. Read all our profiles here as they are published, and for more information visit the Convocation website.
Danny Englehutt of Dartmouth, Nova Scotia always had an interest in history and loved to read and research, but he hadn't pursued a university degree — something he had always regretted. His wife, Sarah, wanted to complete the degree she had started 10 years before. So, in the early 2000s, as parents of three daughters with a fourth on the way, they made an agreement that they would go for their degrees and would each take courses part-time.
Now, 21 years later, after a few breaks along the journey to care for his daughters when they were young, Danny is receiving his Bachelor of Arts in History degree.
He credits a lot of his drive to pursue his degree to the late Michael Cross, a history department faculty member who taught a social history course that Danny took in winter 2002; his first term at Dalhousie. Dr. Cross would become a great friend and mentor who took Danny under his wing.
Danny was honoured to be able to speak at a memorial held at Dal for Dr. Cross in December 2019, to remember his friendship and the influence he had on him as a mature student.
Honouring his mentor

During the 2020-21 school year, Danny won the Edith and Rose Goodman Prize from the history department. Danny donated the prize money back to the department to the Michael S. Cross Memorial Undergraduate Essay Prize fund. Danny explains that since his employer, Halifax Water, was funding a portion of his education through their lifelong learning initiative, he felt that the money would be better used helping another student.
"Michael was a friend and mentor who always believed in me," says Danny. "He inspired me and encouraged me to continue my studies, so I felt this was a small way I could acknowledge his influence throughout my academic journey."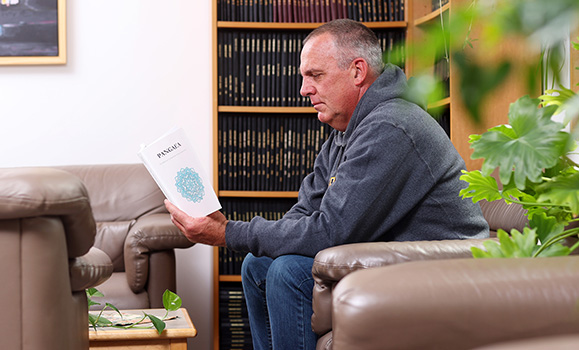 A family affair

Danny has many memories of his time studying in the Faculty of Arts and Social Sciences that include his four daughters: Megan, Jane, Beth, and Claire.
Danny says his two oldest daughters, Megan and Jane, fondly remember coming to classes with him and Sarah when they were little, and that the professors always welcomed them.
"Megan remembers [History prof] Todd McCallum offering to display her drawing on the projector, so the class could see it," says Danny. 
Megan and Beth both attended Dalhousie; Megan graduated with a BScN in 2017 and Beth graduated with a BSc in 2021.
"Beth and I took two History of Science and Technology classes at King's and one History class at Dal together," says Danny. "Being able to take three courses with her was [so] special."
Sarah graduated from Dal with a BA in French in 2007 and a Masters in French in 2020 and now teaches French immersion at an elementary school.
In the later years of his studies, Danny was often the oldest student in his classes but says that he enjoyed his interactions with the students and was always amazed by their insightfulness. He says he enjoyed every minute of the journey, and met so many wonderful, supportive people at Dalhousie and at King's. His own time management and the determination to complete his degree helped keep him on track.
"The motivation has to come from within," says Danny. "It helps if you have support from family members and loved ones. Although there were challenges juggling family, work, and school, at the end of the day my family always came first. Without their love and support I never would have made it."