Passed in 2017, Nova Scotia's Accessibility Act brought forth the recognition of accessibility as a human right and set the goal of an accessible Nova Scotia by 2030. Now, nine years away from that target date, plans are starting to come together for achieving this important goal.
Dalhousie's Accessibility Committee, which includes staff, students, and faculty members from across the university, is working to craft a comprehensive accessibility plan that specifies how we will remove barriers and promote accessibility in each of the areas of focus in the province's post-secondary  framework: the built environment, delivery and receipt of goods and services, information and communication, education, employment, and transportation.
In recognition of Nova Scotia Access Awareness Week and Canada's National AccessAbility Week (May 30-June 5), we spoke to Mikiko Terashima, who is an associate professor with the School of Planning, about how increased awareness is key to starting to remove barriers that many people with disability face. Dr. Terashima leads a research lab, the Planning for Equity, Accessibility and Community Health (PEACH) Research Unit, and is a member of the Dalhousie Accessibility Committee.
How do you start reimagining public spaces, like universities, that were built with little consideration for accessibility?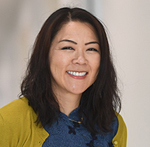 I will use the Dalhousie campuses as an example because I'm currently participating with Dal's Accessibility Committee. We've formed six working groups that focus on the six categories in the provincial framework. Each group and the committee started engaging students, staff, and faculty members to better understand their experiences with accessibility on the four Dal campuses, conducting focus groups and university-wide surveys. That means we are collecting a huge amount of information right now on the current status of accessibility, which is good because we just knew so little. It is really helpful to learn from the participants of the engagement activities about all the things we hadn't yet considered.

In terms of the built environment, for example, connectivity between the buildings is not just about mobility or vision. We've heard from students who have cognitive challenges or some memory issues or who see colours differently and they tell us that walking around campus can be very confusing and intimidating. Participants identified some places that they simply cannot go because there is no elevator, or ramps, or automatic doors. Poor wayfinding systems without clear signage was also raised as a big problem. We are going to have to start addressing these barriers one by one. Right now, we're working to figure out what's the first step in each category of focus so we can set up the mechanism to address existing barriers.
It is also important to keep in mind that we can't just collect information and then tell the students these barriers will be addressed in some years down the road. We must act now, and we must show our progress every step of the way.
How does speaking with people who experience barriers to access inform your work?
Tremendously. The amount of design knowledge they have is incomparable because they live with the spaces and designs that do not make sense for them all the time. So-called professionals may know a few things, but not to the extent that individuals dealing with many barriers on a daily-basis do. That said, individuals' knowledge comes from a specific perspective through their own lens. Because disability-related experiences are diverse, the work of researchers focusing on accessible built environments is to compile the knowledge from these diverse experiences and try to find solutions that address as many barriers for as many people as possible.
Could you describe some of the considerations for planning a fully inclusive space?
Planning looks at the welfare of society as a whole, but often based on the interest of the majority — it tends to be utilitarian that way. But we have to think about who the 'majority' is. In recent years, scholarly research has become more self-critical about the fact that planning so often relies on the 'average person' model — meaning that planners try to configure the built environment based on able-bodied, young age, and often male (and white) persons as the measure for design requirements.

Now is the time to develop a better framework that looks closely at the diversity of population. Really, when you think about it, the so-called minority people are not really minority if counted together. Planning has to have this kind of mind shift for even beginning to think about how to plan a fully inclusive space. And there will continue to be more and more pressure from the public to account for different groups — who are often equity-deserving groups — as there should be.
See also: Toward a barrier‑free Dalhousie: Accessibility goals take shape as province sets standards
What are some of the health outcomes that result from improved access?
Even if we just look at access in the built environment, improvement in mental health and wellbeing will be huge, as being able to go outside and have opportunities to engage in social interaction will reduce stress and isolation. Many people who would not have been able to go outside due to physical barriers in public spaces will be able to get outside and enjoy the fresh air, run errands, or play sports.
Increase in physical activities, as we all know, will help strengthen our immune system and help maintain muscle strength, and it will be easier to manage any chronic pain people may have. In that way, access in the built environment has a huge potential in reducing inequity in health as well.    
Is society starting to place more value on accessible spaces or is there still work to do there?
There is more work to be done but there are things that are happening now with initiatives like accessibility planning in public institutions including Dal.  Another initiative to pay attention to is the Rick Hansen Foundation Accessibility CertificationTM  — in Nova Scotia, the CHEB Building on Carleton Campus and the Halifax airport were recently certified. When the news shows the certification as something that's valued by the public, more businesses, institutions, and building owners might try to achieve that advanced level of accessibility.
Then the culture of development and construction can change to aspire for higher levels of accessibility. I've also noticed that the School of Planning students are talking about accessibility more and more perhaps because they see the demand for more accessible space planning through co-op placements. These students who gained exposure to the issue will be promoting accessibility in their future jobs, too. 
So, it's like a cycle of positive change happening. I truly hope that the movement doesn't stop here. With the aging population, the need for accessible built environment is only going to increase, so we should keep voicing the demand for more accessible spaces. It could be any of us who will be facing barriers in some of these spaces tomorrow, if not today already.
See also: Human Resources advances more inclusive employment standard for everyone