Two Dalhousie students have been named as recipients of the 3M National Student Fellowship for 2019 — an honour extended to just 10 undergraduates across the country each spring in recognition of their outstanding leadership and educational vision.

Mariam Ragab, a third-year Computer Science student, and Hayat Showail, a second-year Environment, Sustainability & Society student, join a distinguished learning community of other fellows that's been growing since 3M Canada and the Society for Teaching and Learning in Higher Education (STLHE) first launched the program in 2012.

In addition to a $5,000 award, Mariam and Hayat will receive registration, accommodation and travel funds to participate in this year's STLHE conference in Winnipeg. They will take part in a collaborative project related to post-secondary education at the conference, which takes place June 11-14.
With Mariam and Hayat being named 3M Student Fellows for 2019, Dal has now had five Student Fellows over the past three years. They follow Nursing student Martha Paynter in 2018 and Engineering student Bai Bintou Kaira and Theatre/ESS student Anika Riopel in 2017. Dal's first Student Fellow, Alex Harding, was in 2014.

Hayat Showail
Management; Environment, Sustainability and Society

Hayat Showail's quiet life in St. Louis, Missouri, changed radically when she was 12 and her family moved to Beirut. About six months into their new life in Lebanon, the country descended into civil war.

"I was this girl from the Midwest hearing bombs and everything. It was like 'what is going on? I really did not expect this,'" says Hayat, now a second-year Environment, Sustainability and Society student in the Faculty of Management.

Suddenly, Hayat saw the full scope of her own privilege in stark relief.

"That's when I started doing community work because I felt I had so many privileges I never noticed before," she says. "Privileges of education, privileges of safety, privileges of so much — and it was time for me to give back."

Hayat started tutoring underprivileged children whose parents could not afford tutors and could not help them with school. She even learned to speak Arabic and French fluently to be able to better communicate with the children.

Years later, Hayat has continued to give back during her time Dal. She has worked as a peer advisor in the Career Services office of the Bissett Student Success Centre and as an assistant career and recruitment specialist with Management Career Services in her own Faculty, helping students fine-tune their resumes, cover letters, interview skills and job searches.

At Bissett, she also found support to take on more initiative and decided to develop a workshop on creating change in diversity and inclusion efforts.

"I turned my leadership into something where not only am I empowering myself and moving up, but I'm taking my community with me," she says.

Hayat says she appreciates being a student at Dal because the university community seems open to new ideas.

"It has an environment where you can speak and be heard by people who not only believe you, but by people who don't and want to see your side," she says. "I feel like that really empowers people to make change."

Hayat says the recognition from 3M and STLHE has given her a boost to do even more as she heads into the second half of her degree at Dal.

"It's telling me, 'you've got this, keep going, this isn't the end point. This is just the beginning. You have to keep trying and doing more and giving back.'"

Mariam Ragab
Computer Science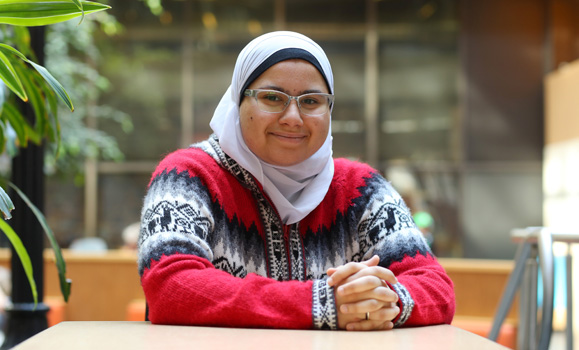 As someone who enrolled at Dalhousie when she was just 15, Mariam Ragab got to learn earlier than many young people the power of the post-secondary educational experience.

But she has also had the chance to learn through her community outreach work how education systems sometimes don't work for people, particularly for economically disadvantaged youth in Canada's North.

"I work with people who don't necessarily have an opportunity to access education," says Mariam, now a third-year Computer Science major at Dal.

Mariam volunteers with Global Vision, a national Canadian non-profit that connects the country's best and brightest youth with communities in need to help build a stronger world through entrepreneurship and learning. She has also travelled to Ottawa, Peru, Papua New Guinea and even China with the NGO, helping provide youth in different communities with skills sets they might not otherwise have an opportunity to learn.

"What we do is centred around the challenges you see in your community and how you can take those challenges and turn them into something positive," she says.

Mariam has also stepped up to support people in her immediate Dal community as well, working as a teaching assistant in Faculty of Computer Science and serving as vice-president internal of the Dal Computer Science society.

The importance of education and learning was clear to Mariam early on. Her parents decided to emigrate from their home country of Egypt to Halifax in search of a better education for their daughter.

"It was an interesting time for me to come from there, barely speaking English, and going to school here for the first time. It was a jump, but I definitely learned a lot from seeing almost two completely different worlds," she says.

As a 3M fellow, Mariam says she is most excited to meet other people who have been selected and learn them and what they do to be great leaders.

"My vision is to find a way to impact as many people as possible," she says. "For me, if you can help one person, then that person can go and help another person and eventually you help the entire world."