Third-year Electrical Engineering student Alex Harding is passionate about the role of international students in higher education — particularly, refugee students coming to Canada to seek a better life.

"I believe these students are one of Canada's greatest assets," he says of the students he's connected with through the World University Service of Canada (WUSC) organization. "They are my heroes. When you realize the obstacles they've overcome to get to Canada, it is incredibly inspiring."
Harding's volunteer work with WUSC is one of the many accomplishments that led to his being awarded a 3M National Student Fellowship last week. He's the first ever Dalhousie student to receive the fellowship, and one of two ever in Atlantic Canada.

The fellowship is awarded each year to 10 full-time college and undergraduate university students who have demonstrated outstanding leadership and taken their academic experience beyond the classroom.
Thinking globally

For someone only in his third year of university, Harding's accomplishments are quite impressive. In 2013, while completing his Certificate in Applied Science portion of his Engineering studies at Acadia before coming to Dal, he served as president of the Acadia's WUSC chapter. Under his leadership, the chapter brought in more funding and immigration support for local sponsored students from international refugee camps than ever before in the university's history.  
Learn more: WUSC's Dalhousie Chapter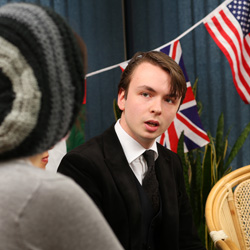 This international commitment to helping others succeed is the driving force behind Harding's education, and he's always looking for ways to integrate it into his studies. For example, as part of a school project, Harding created a $90 dual-axis solar stove prototype, which is currently in post-development to be deployed to Kenyan refugee camps. He's also published a mathematical model to reduce power estimation error on wind turbines by up to 30 per cent — again, with an eye to international development opportunities.

He credits his can-do attitude to the inspiration of his brother, younger by five years, who was born with autism.

"Christopher has taught me that intelligence isn't one dimensional. He faces learning hurdles that you or I could never even dream of, and yet still breezes through Calculus before he's even old enough to drive."

"The human mind is a very curious thing," he continues. "Sir Isaac Newton had difficulty commanding a class, let alone an army. Napoleon would probably write the worst symphony ever heard, and Beethoven didn't derive a single equation. Yet still, each was brilliant in their respected field."
Unlocking potential

As part of the fellowship, Harding has been invited to join other award winners at the 33rd Annual Society for Teaching and Learning in Higher Education (STLHE) conference at Queens University in June. The conference's theme is "transforming our learning experiences."

"We've grown up in a post-secondary system that we must adapt to in order to survive," says Harding, reflecting on the theme. "It's time for that system to also be able to adapt to us. For the first time, we have the technology and the resources to take on the first steps in truly tailoring our learning experiences to each unique student in a way that finally begins to unlock their hidden potential."
 
In preparation for the conference, Harding has set up discussions and interviews across campus to consolidate the ideas and desires of his fellow students.

"My goal is to build a solid knowledge base and understanding of how we as students transform the way we learn. Having Dalhousie represented in STLHE's student branch is a terrific opportunity, and I can't wait to bring our ideas to the spotlight."