Zachary Comeau once vowed to keep his distance from "theatre kids," a cohort he believed to be melodramatic and self-important. Now that he's thriving in the Fountain School of Performing Arts, he looks back on his preconceptions with sheepish amusement.

"I hang out with 'theatre kids' every single day. They're good people. It's a good sense of community."

Zachary's evolving perspective on theatre and actors ought not to come as a major surprise, however. After all, he himself has been a natural performer from an early age. Growing up in Dartmouth, N.S., he recalls attending camps at Neptune Theatre. In high school, he began to study drama and appeared in nine different school productions over the span of three years.

"I kept going for it, I kept auditioning, I kept trying to grow my skill set," he says. "I learned musical instruments, I learned how to dance–anything to perform."

The variety of skills he acquired in high school has served Zachary well in the Fountain School of Performing Arts, where he has taken the stage in productions such as Shakespeare's A Midsummer Night's Dream, The Oresteia and, most recently, the late-March run of Coram Boy.
He'll also be appearing on-camera for a video series as part of the Dal Originals project, profiling some of Dalhousie's most prominent figures for the university's upcoming 200th anniversary.
Embracing the physical side of acting

Zachary credits Fountain School faculty members such as Margot Dionne with helping him hone and diversify his skills. "I've gotten to do a lot of work with Margot in physical theatre, which is the kind of theatre that I'm most passionate about.

"I learned so much from my time with Margot that I'm confident in what I can do with my body. And in the coming summer, I get to do some more physical theatre work with Transitus: Speaking in Silence, which is a new performing company."

Summer is indeed shaping up to be a busy time for Zachary. In addition to working with Transitus, he'll dedicate himself to launching a French-language improvisation league in Nova Scotia. La Ligue Acadienne d'Improvisation de la Nouvelle-Ecosse (LAINE) is based on a format that originated in Quebec, wherein teams of improvisers compete in hockey jerseys on a fake ice rink, creating spontaneous sketches for an audience that determines which team "wins" each sketch.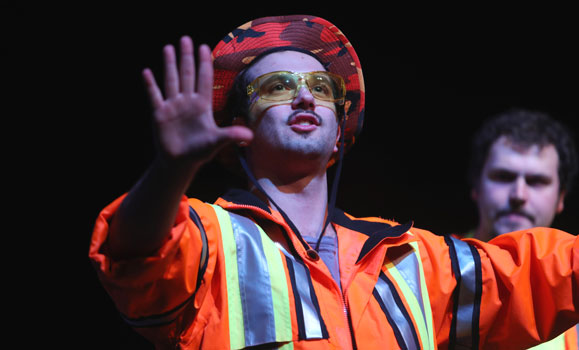 Zachary in A Midsummer Night's Dream.

The hockey theme is further illustrated through the use of referees and penalties, the latter of which are applied when performers use clichés, break character, rely on vulgar jokes or fail to respect the imagined world of the scene.

"It's the coolest thing ever," says Zachary, who spent the first few years of his life in Quispampsis, New Brunswick and brings a love of both improv and the French language to the project.

He also brings competitive experience, having coached teams from Nova Scotia in national Francophone improv competitions.

"It was interesting seeing the different styles that the different provinces have. New Brunswick, Ontario and Quebec are very focused on wordplay. British Columbia had very good singing. Nova Scotia was focused on absurdity.

"It was interesting seeing my kids figure out different ways to add something to the story in a way that could kind of make sense."
Sharing a love of theatre


Working in tandem with the francophone youth organization Conseil Jeunesse Provincial de la Nouvelle-Ecosse (CJPNE), Zachary plans to launch LAINE in French-speaking high schools across Nova Scotia. The high school setting will be familiar to Zachary, who works in Halifax's l'Ecole Secondaire du Sommet, using improv to improve students' skill and confidence with the French language.

"The big goal is to have one big weekend of improv competitions with every school," he says.

Zachary sees the opportunity to build something new and unique in the province by sharing his love of the improv form. "French improv is heavily story-based. You need a beginning, middle and an end. You need a dramatic situation, emotional context and characters.

"It's all about fun. And once it gets ingrained, it gets easier."

Zachary's own performing philosophy is sure to shine through as well.

"I know some people who take acting really seriously," he explains. "That's fine, but I like to take the approach that it's completely ridiculous — because it is!"