Michael Dunbar
Professor, Department of Surgery, School of Biomedical Engineering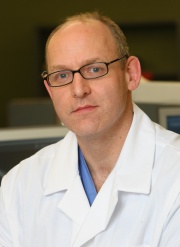 Contact
Michael Dunbar, MD, FRCSC, PhD
Email: michael.dunbar@dal.ca
Phone: 902-473-7337
Fax: 902-473-7370
Web: http://dalortho.ca/surgeon/dr-micheal-dunbar/
Our Group
We are exploring the use of surgical navigational technologies to improve patient outcomes as well as engineering solutions for surgical challenges.
Projects
Predicting Arthroplasty Failure: Hip and knee arthroplasty are successful operative interventions. However, survivorship is limited and small changes in implant technology designed to improve outcome can have deleterious effects. Conventional assessment tools for arthroplasty require long follow-up on hundreds of patients. Radiostereometric Analysis (RSA) is a precise technology imported from Sweden that allows for early detection of implant migration. Such migration occurs early and is predictive of late implant failure. The first clinical RSA study has now been completed with several more underway. Collaboration with the SBME is allowing for refinement and advancement of RSA techniques.
Gait Analysis: Gait patterns can be predictive, when combined with RSA, as to which implants are more likely to fail. The hypothesis is that some gait patterns persist post-surgery that may predispose to early failure. If such gait patterns can be identified, it may be possible to retrain a patients gait and hence increase the life expectancy of their implant.
Gait Lab Surrogate: While the formal gait lab is a an excellent tool for research, it does have practical limitations for a clinical application. A new tool has been developed using a portable series of accelerometers that has the ability to detect clinically relevant conditions such as osteoarthritis, leg length discrepancy, etc. This tool holds great promise as a screening instrument to determine which patients need treatment and what the effect of said treatment is.
Recent Publications
Patient satisfaction after total knee replacement: new inroads. Dunbar MJ, Haddad FS. Bone Joint J. (2014) 96-B(10):1285-6.

Changes in the functional flexion axis of the knee before and after total knee arthroplasty using a navigation system. Wilson DA, Astephen Wilson JL, Richardson G, Dunbar MJ. J. Arthroplasty. (2014) 29(7):1388-93. 

I can't get no satisfaction after my total knee replacement: rhymes and reasons. Dunbar MJ, Richardson G, Robertsson O. Bone Joint J. (2013) 95-B(11 Suppl A):148-52. 

Aspirin versus low-molecular-weight heparin after total hip arthroplasty.
Anderson DR, Dunbar MJ, Kahn SR. Ann. Intern. Med. (2013) 159(7):502-3.

Longitudinal migration and inducible displacement of the Mobility Total Ankle System. Dunbar MJ, Fong JW, Wilson DA, Hennigar AW, Francis PA, Glazebrook MA. Acta Orthop. (2012) 83(4):394-400.
Pre-operative muscle activation patterns during walking are associated with TKA tibial implant migration. Wilson DA, Hubley-Kozey CL, Astephen Wilson JL, Dunbar MJ. Clin. Biomech. (Bristol, Avon) (2012) 27(9):936-42.
The knee adduction moment during gait is associated with the adduction angle measured during computer-assisted total knee arthroplasty. Roda RD, Wilson JL, Wilson DA, Richardson G, Dunbar MJ. J. Arthroplasty. (2012) Jun;27(6):1244-50.