Michael Dunbar
Professor, Department of Surgery, School of Biomedical Engineering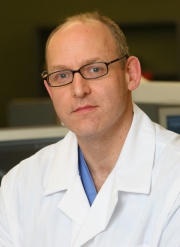 Our Group
We are exploring the use of surgical navigational technologies to improve patient outcomes as well as engineering solutions for surgical challenges.
Projects
Predicting Arthroplasty Failure: Hip and knee arthroplasty are successful operative interventions. However, survivorship is limited and small changes in implant technology designed to improve outcome can have deleterious effects. Conventional assessment tools for arthroplasty require long follow-up on hundreds of patients. Radiostereometric Analysis (RSA) is a precise technology imported from Sweden that allows for early detection of implant migration. Such migration occurs early and is predictive of late implant failure. The first clinical RSA study has now been completed with several more underway. Collaboration with the SBME is allowing for refinement and advancement of RSA techniques.
Gait Analysis: Gait patterns can be predictive, when combined with RSA, as to which implants are more likely to fail. The hypothesis is that some gait patterns persist post-surgery that may predispose to early failure. If such gait patterns can be identified, it may be possible to retrain a patients gait and hence increase the life expectancy of their implant.
Gait Lab Surrogate: While the formal gait lab is a an excellent tool for research, it does have practical limitations for a clinical application. A new tool has been developed using a portable series of accelerometers that has the ability to detect clinically relevant conditions such as osteoarthritis, leg length discrepancy, etc. This tool holds great promise as a screening instrument to determine which patients need treatment and what the effect of said treatment is.
Selected Publications
Full list of publications
Conner-Spady B Marshall D, Bohm E, Dunbar MJ, Noseworthy T.  Comparing the responsiveness of the EQ-5D-5L to the Oxford hip and knee scores and SF-12 in osteoarthritis patients one year following total joint replacement.   Qual Life Res. 2018 May;27(5):1311-1322. doi: 10.1007/s11136-018-1808-5. Epub 2018 Feb 8
Rhee C, Lethbridge L, Richardson G, Dunbar MJ.  Risk factors for infection, revision, death, blood transfusion and longer hospital stay 3 months and 1 year after primary total hip or knee arthroplasty.  Can J Surg, Vol. 61, No. 2, April 2018.
Anderson D, Dunbar MJ, Murnaghan J, Kahn S, Gross P, Forsythe M, Pelet S, Fisher W, Belzile E, et al.  Aspirin vs Rivaroxaban for VTE prophylaxis post Hip and Knee Arthroplasty.  N Engl J Med 2018; 378:699-707.   DOI: 10.1056/NEJMoa1712746
Parvizi J, Sedel L, Dunbar MJ.  Clinical Faceoff: Instability after THA: The Potential Role of the Bearing SurfaceClinical Orthopaedics and Related Research®: February 09, 2018 - Volume Publish Ahead of Print.  doi: 10.1007/s11999.0000000000000162.
Sheehan K, Filliter C, Sobolev B, Levy A, Guy P, Kuramoto L, Kim J, Dunbar MJ, Morin S, Sutherland J, Jagla S, Harvey E, Beaupre L, Chudy A for The Canadian Collaborative Study on Hip Fractures.  Time to surgery after hip fracture across Canada by timing of admission.  Osteoporos Int 2018 Mar;29(3):653-663. https://doi.org/10.1007/s00198-017-4333-4. 
Dunbar MJ, Laende EK, Collopy D, Richardson CG.  Stable migration of peri-apatite-coated uncemented tibial components in a multicentre study.  Bone Joint J. 2017 Dec;99-B(12):1596-1602. doi: 10.1302/0301-620X.99B12.BJJ-2016-1118.R2.
Freter S, Koller K, Dunbar MJ, McNight C, Rockwood K.  Translating delirium prevention strategies for elderly hip fracture patients into routine clinical care: a pseudo-randomized trial.   J Am Geriatr Soc. 2017 Mar;65(3):567-573. doi: 10.1111/jgs.14568. Epub 2016 Nov 22. 
Harding GT, Dunbar MJ, Hubley-Kozey CL, Stanish WD, Astephen Wilson JL. Corrigendum to "Obesity is associated with higher absolute tibiofemoral contact and muscle forces during gait with and without knee osteoarthritis" [Clin. Biomech. Jan; 31 (2016) 79-86]. Clin Biomech (Bristol, Avon). 2017 Mar;43:121.
Scalise J, Dunbar MJ, Jacofsky D.  Evolving Beyond Craft Surgery Is Both Inevitable and Essential.   J Knee Surg. 2017 Jan;30(1):3-6. doi: 10.1055/s-0036-1593368. Epub 2016 Sep 29.