Orientation
WELCOME NEW STUDENTS!
Orientation begins in Tuesday, September, 7, 2021. Orientation events are a mix of in-person and online (see schedule below for details).
We are excited to welcome you to SIM. Details are subject to change so check back regularly.
Questions about Orientation?  Contact Janet Music, MI Program Coordinator (jlmusic@dal.ca).
ORIENTATION EVENTS SCHEDULE
We also encourage you to keep an eye on our online events calendar to stay informed about what's happening at SIM throughout the year.
All events take place in-person in Room 3089, 3rd floor, Kenneth C. Rowe Management Building, unless otherwise specified.
Tuesday, September 7th, 2021
8:00am Common Room open for mingling (Rowe 4032)
9:00am Faculty/staff/incoming student introductions
11:30am Lunch/Associations Display (Rowe 3087)
1:00pm Dalhousie Support Session
2:00pm Campus Tour
Wednesday, September 8th, 2021
9:00am Career session (Cabot Yu, SIM Professional in Residence) *ONLINE
Thursday, September 9th, 2021
8:00am Common room open for mingling (Rowe 4032)
9:00am Faculty/staff/returning student introductions
Friday, September 10th, 2021
8:00am Common room open for mingling (Rowe 4032)
9:00am Research/grad student success presentation (SIM faculty and staff)
12:00pm Academic Support Series: Intro to Brightspace (Lindsay McNiff)
2:00pm Summer Shine (Dalhousie Libraries intern presentations) *ONLINE
ACADEMIC SUPPORT SERIES
These sessions are hosted by the IM Liaison Librarian. Visit the webpage for more details.
Note: some sessions are mandatory for incoming students. We encourage you to attend all sessions, even if attendance is not required.
DALCARD ACTIVATION INFORMATION *Important-Please Read*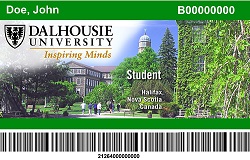 Your DalCard serves as your student ID, swipe card room access, transit pass and debit card.
Please visit the DalCard website for details about obtaining your card.
Questions about DalCard?
INTERNATIONAL STUDENT SUPPORT