Orientation
WELCOME NEW STUDENTS!
We are excited to meet you. Orientation starts Tuesday, September 6th, 2022.  The Orientation Week schedule is linked below. Details are subject to change so check this page regularly.
Questions about Orientation?  Contact Janet Music, MI Program Coordinator (jlmusic@dal.ca).
ORIENTATION EVENTS SCHEDULE
We also encourage you to keep an eye on our online events calendar to stay informed about what's happening at SIM throughout the year.
2022 Orientation Schedule [PDF - 325 KB]
Note: details are subject to change. Please check this page regularly.
The lunch and Associations Display on September 8th will now take place in Rowe 2068.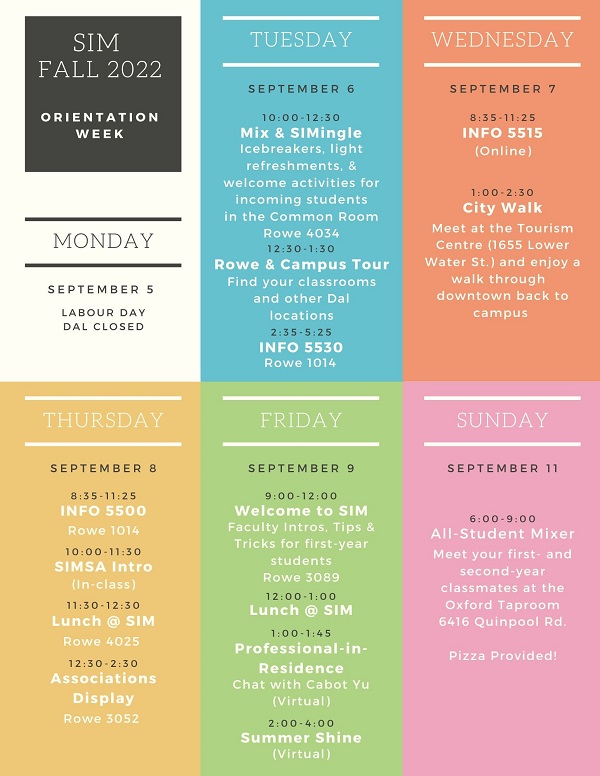 CAMPUS MAP & ROOM LOCATIONS
Familiarize yourself with Dal's campus using the interactive campus map. Locate classrooms, bike racks, wireless locations, food services and more.
SIM is located on the Studley campus, in the Kenneth C. Rowe Management Building.
The SIM office is in suite 4010 (4th floor, across from elevators). Here you will find staff and faculty offices, the SIM meeting room (4025), and the SIM Common Room (4034). The Common Room can also be accessed from the hallway outside the ladies washroom on the 4th floor (DalCard access is required - see DALCARD ACTIVATION below).
3087 & 3089, where the September 9th events are taking place, are on the 3rd floor. When you come off the elevator, turn right, walk into the hallway. Both rooms will be on your right.
Most MI classes take place in the Rowe building.
MICROSOFT TEAMS TIPS (EVENTS)
GENERAL ADMINISTRATIVE INFO *Important-Please Read*
SIM admin cannot provide assistance with IT issues, or tuition and fees.
ACADEMIC SUPPORT SERIES
These sessions are hosted by the IM Liaison Librarian. Visit the webpage for more details.
Note: some sessions are mandatory for incoming students. We encourage you to attend all sessions, even if attendance is not required.
DALCARD ACTIVATION INFORMATION *Important-Please Read*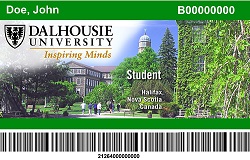 Your DalCard serves as your student ID, swipe card room access, transit pass and debit card.
Please visit the DalCard website for details about obtaining your card.
Questions about DalCard?
HOUSING
Click here for information about residence housing
Click here for information about off-campus housing and general information about living in Halifax/Nova Scotia.
Issues or questions can be sent to housing@dal.ca or you can click here for a list of useful contacts.
SIM admin is not able to provide assistance with housing.
INTERNATIONAL STUDENT SUPPORT