News
»
Go to news main
Meet Emma Vossen, Class of 2023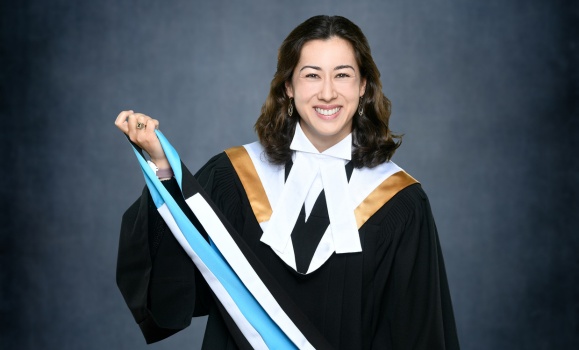 Original story published on DalNews
To celebrate Spring Convocation, we chatted with students from across Dal Health. Emma Vossen graduated with a joint Juris Doctor and Master of Health Administration.
Convocation Q&A: Emma Vossen

Degree: Juris Doctor and Master of Health Administration
From: Delta, British Columbia
How significant is it for you to receive this degree?
This degree meant the start of a dream, the building of a network, and the opportunity of a lifetime. The chance to combine my passion for law, health and policy with the unceasing support of staff, faculty and peers in the School of Health Administration made four years fly by. I will be forever grateful for the wisdom and experience of individuals and mentors who I have been connected with through this degree, the opportunities for professional development at every turn, and the chance to work with others to make small but meaningful steps towards change and quality improvement in our healthcare system.
What were the highlights of your degree?
While there are far too many to recount, I would have to say that the freedom to write papers on topics of personal interest, guided each step of the way by dedicated professors, was a major highlight. The opportunity to be a Teaching Assistant for Advanced Healthcare Law and assist students in pursuing their own research interests (the result being my own learning from them in far greater measure than any knowledge that I could have passed along) was another memorable aspect of this degree. Finally, the ability to be involved in student societies and faculty committees that focused on enhancing student life and the academic experience, such as the Association of Health Administration Students (AHAS) and the Academic Quality Assurance Committee, were unique learning experiences beyond the classroom that have helped to prepare me for the challenges that I will face in any future professional role.
What will you miss about your time at Dal?
That's a long list, but at the top has to be the strong bonds between faculty, staff, students, alumni and community professionals. The ability to reach out to an alumnus or mentor from the healthcare sector, all of whom were so generous with their time and attention to your interests, for a quick chat about possible career paths was invaluable. The structure of our MHA classes facilitated in-depth student-led discussions which were always insightful and expertly guided by our instructors. Overall, it is the people who make Dalhousie University, and the Faculty of Health specifically, the special place that it is today.
What was your journey to Dal and to this program?
My Honours Thesis at St. Francis Xavier University was titled "Come and Journey with Me: An Examination of Empathic Practices in a Mission Driven Healthcare Institution." It was through this project that I had the opportunity to work with St. Martha's Hospital in Antigonish, the intent being to focus on an understudied group in healthcare, patient-families, and to examine the impact that the Hospital's Catholic mission statement had on end-of-life and bereavement care as experienced by those families. Guided by my supervisors Dr. Tom Mahaffey and Sr. Catherine Ann MacGillivray, I was struck by the intersection between law, health and policy that was increasingly evident in my conversations with patient-family members, doctors and administrators. My interest in these subjects continued to grow as I completed a Parliamentary internship in the Office of MP Rachael Harder during her tenure on the Standing Committee on Health and Committee for the Status of Women. These experiences, in addition to my own encounters with the healthcare systems of both British Columbia and Nova Scotia, prompted me to search for a graduate program of study that would allow me to marry my interests in law, health and policy, ideally while living in the province that had taught me the true meaning of "community". Dalhousie's combined Juris Doctor and Master of Health Administration program fit the bill to a tee!
What topics/research/work did you become passionate about during your education?
I entered the JD/MHA program at a time when the impacts of Canada's relatively new medical assistance in dying laws were being felt across the country. As a result, my term papers, summer residency work with the NSH and legal placements with the law school allowed me to address the effects of the Carter v Canada decision from various legal and healthcare lenses, specifically highlighting barriers to high-quality palliative care, identifying their intersection with current and proposed MAID legislation, and providing recommendations for navigating the complexities of the law, the interactions between providers, patients and their families, and the availability of resources in the current healthcare system. I became passionate about examining place of residence as a social determinant of health and investigating whether palliative care is in fact a viable alternative for patients in rural and remote areas of Canada. I sincerely hope to be able to continue my research surrounding policy options that could be implemented in Canada to improve the equitable provision of palliative care in rural and remote areas in both the short and long term as I move forward in my career.
What's next for you?
I am looking forward to beginning my legal career as an articled clerk at BOYNECLARKE LLP in Nova Scotia, in addition to becoming a member of a profession in which I will undoubtedly be a lifelong "student," learning something new every day. I am also excited for the opportunity to work alongside and learn from legal professionals with a broad range of experience in the areas of family law, personal injury law, and business litigation, just to name a few! I hope to continue my health law journey by pursuing my Canadian Health Executive (CHE) Designation, and in the meantime I am excited to be able to carry forward the commitment to community and public service embraced by the Faculty of Health, the Schulich School of Law, and the Province of Nova Scotia in my legal practice.