News
»
Go to news main
Jason Stephanian Receives 2022‑2023 Dalhousie IMPACT Award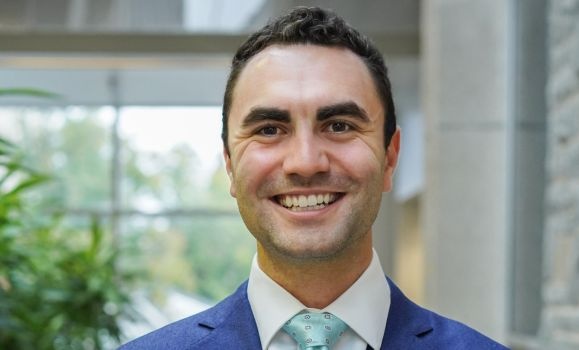 Congratulations to Schulich Law student Jason Stephanian who received the 2022-2023 Faculty Leadership Impact Award for Law at this year's event on the evening of March 23 at the Student Union Building.
The Dalhousie IMPACT Awards is an annual event hosted by the Dalhousie Student Union (DSU), in collaboration with Dalhousie University, to recognize outstanding individuals and student groups that impact our community.
Faculty Leadership Awards are given to undergraduate or graduate students in good academic standing for each Dalhousie faculty. These students exemplify the highest level of passion for their discipline, take initiative in creating new opportunities and encourage their peers to engage in faculty initiatives. Faculty Leadership Impact Award winners positively impact other students in their faculty and the reputation of their faculty at Dalhousie outside of the classroom.
"It's a huge honour to receive this award. I'm wowed by the talent, dedication, and brilliance of my classmates and humbled to be recognized among all the incredible work my very talented peers do every day. It's inspiring to be part of a group that contributes so much to the community here at Weldon, locally in Nova Scotia, and across the country. I seek inspiration from the strength and dedication of my peers, professors, and the law school staff," says Stephanian. "I want to say a special thank you to Associate Dean Lucie Guibault for presenting this award to me. It meant a lot to share the stage with her, especially after all the time we've spent together over the last two years working to ensure students have an incredible experience in the classroom and in the wonderful experiential learning opportunities the law school offers."
Stephanian has held the role of VP Academic in both 2L and 3L on the Law Students' Society (LSS) which has given him the opportunity to be a member of Faculty Council, Academic Committee, Studies Committee, the Dean Search Committee and sit as Chair of the LSS Teaching Awards Committee. He supports his fellow students by sharing academic concerns as they come up and facilitates both rolling evaluations and the CANs database. He has also served as the editor-in-chief of the Dalhousie Journal of Legal Studies, been an "upper year buddy", worked on Pro Bono projects, and was a member of Lawyers Without Borders Student Division at Dalhousie University in 1L and 2L.
Congratulations to all who were nominated! The full list of winners can be read here.