News
»
Go to news main
Leaving a Lasting Legacy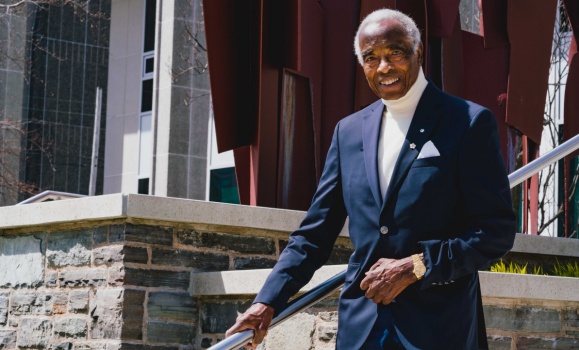 This story originally appeared in the 2022 edition of Hearsay, the Schulich School of Law Alumni Magazine.
It was a mid-afternoon in 1962 and Don Oliver (LLB '64, LLD '03), a first-year student at Dalhousie Law School, decided to take a break from his studies at a downtown pool hall with a fellow Sir James Dunn scholar.
Shortly after they arrived, his friend disappeared, returning a few minutes later agitated and urging Oliver to leave. As Oliver did, he was accosted by a man who told him the hall's policy: Black people were not allowed.
Oliver called the province's attorney general's office to complain that his human rights had been violated. "A lawyer from the office phoned me back and said they were working on legislation that may apply to the racism I had experienced and they were going to send it to me in confidence," he recalls. "They wanted to know if I would review and comment on it."
Applying the skills he had gained through his coursework, Oliver edited the bill, which became the Fair Accommodation Practices Act. "It was an act that said I could not be kept out of any place to which the public was customarily admitted based on the colour of my skin," he says. "I changed the law of Nova Scotia."
Advocating for others
Born in 1938, Oliver has been a catalyst for change throughout his life. It is a vocation that has found expression through many different roles. As a trial lawyer, he frequently represented Black clients pro bono and advocated on behalf of Black university students in Montreal whose grades reflected systemic racism by a white professor. As a human rights activist, he supported residents in Beechville, NS, in their efforts to resolve long-standing land title disputes. As a volunteer, he travelled to Ethiopia in 1962 to help build a 45-foot extension for a school in a community devastated by flooding and co-led an effort to help Black students in Halifax's North End stay in school. And as Canada's first Black male senator, he contributed to laws to protect women and children.
"The fact that I have been able to bring about meaningful change in our society and break down white privilege—the one thing that continues to hold back all Canadians of African descent—without violence means the most to me," says Oliver, whose efforts have earned him the Order of Canada, the Order of Nova Scotia and Queens Counsel honours. "I am a nonviolent person apart from the fact that I like to hunt and fish."
Fighting for equity and justice
Oliver's commitment to effecting meaningful change was instilled in him from an early age. Growing up, his family was the only Black family in Wolfville and the racial injustices they experienced compelled him to find a forum to create a more equitable and just society. "I had thought about earning a PhD in history so I could teach or do research on slavery, Blacks and colonialization," says Oliver, who had previously pursued studies in philosophy and existentialism. "I chose law instead because there were so many wrongs that needed to be righted, such as Black people being unable to get housing and being refused promotions."
From the start of his legal career, Oliver fought as much for his own seat at the table as he did for others. Although he received an offer to join Stewart, MacKeen & Covert—now Stewart McKelvey—after graduating in 1964, a senior partner at the firm took him aside and suggested that there would be little work for Oliver at the firm and that his path to a partnership would be much slower because he lacked the connections of his peers. But two key factors worked in Oliver's favour. For one, he had a reputation as a human rights activist and community volunteer and that led Sir George Williams University in Montreal to engage him in 1968 to represent Black students who were being graded lower than white students by a university professor. This proved he could bring major clients to the firm, even from outside the province. But Oliver also benefitted from a disinterest among his associates to fulfill the province's mandatory requirement for two weeks of pro bono legal clinic work each year. He took on those obligations in exchange for legal work from them.
"I was in court a lot and learned about legal matters such as cross examination, rules of evidence, and hearsay," he says. "I also got to observe some of the finest criminal lawyers at the time—HP MacKeen, Angus L. MacDonald, and Leonard Pace. I studied how they addressed the judge and the court, how they treated their clients and how they posed their questions. I think I became a good trial lawyer as a result because I won a lot of my cases and several of them were reported in the Dominion Law Reports for setting legal precedent."
Shaping canadian law and society
Such was Oliver's legal acumen that the federal Progressive Conservative party approached him in 1972 to deliver lectures to party lawyers nationwide on the implications of the newly proclaimed Elections Expenses Act. That opened the door to more political opportunities. Oliver served as the party's federal vice president, director of funding and its legal advisor for six election campaigns. In 1990, Prime Minister Brian Mulroney appointed Oliver to the senate. Over the next 22 years, he earned a reputation as one of Canada's busiest senators.
"It was well known among the security guards that I was usually the only senator working in the east building Saturdays and Sundays from 7 o'clock in the morning until 6 at night," he laughs. "But I had so much work to do."
During his time in the senate, Oliver chaired an unprecedented six standing committees—including Legal & Constitutional, Agriculture & Forestry and Transport & Communications. He co-chaired a special committee that drafted a code of conduct for parliamentarians. He was unanimously elected speaker pro tempore of the senate—making him fourth in the order of precedence. And he often represented Canada's position on diversity, tolerance and equity overseas. 
Oliver also shaped Canadian law and society during his time as a senator. His private member's bill on stalking and harassment was incorporated into the government omnibus bill and another bill, related to spam, dealt with predators targeting children online. And his colleagues often called on him to apply his legal skills on their behalf.
"I was on the banking committee for 20 years and the chairs frequently asked me to participate in hearings because they liked the way I posed questions," he says. "I developed that ability during my years as a trial lawyer and from my training at Dalhousie. I knew from talking to witnesses—like senior bankers—that when it came time for me to ask my questions, they knew they were going to be good ones."
Identifying and examining barriers
Perhaps Oliver's biggest achievement happened in 2004 when he raised $500,000 and commissioned the Conference Board of Canada to undertake an exhaustive examination of the barriers that minorities face in advancing to executive positions in both private and public institutions. He was inspired to do so after a lunch meeting with a bank executive who became defensive when Oliver asked why there were no women or Black people in the corporation's executive offices.
"He said, 'You're a lawyer. If you're saying that we discriminate against women and Blacks, what's your proof?'" Oliver recalls. "I decided we needed to have it. The resulting research gathered the necessary data to make a strong business case for diversity and it resulted in offers from around the world to deliver lectures on the final report. Soon after, the recommendations made in that report were being included in the annual reports of major banks as steps they were taking towards more diversity."
Optimism for the future
Oliver's legacy of change is ongoing. He has scheduled a series of lectures on topics such as anti-Black racism, diversity, inclusion and equity in Canadian society. He conducted a series of interviews with eminent Black Canadians for an Ontario radio station during Black History Month. And he has published his autobiography, A Matter of Equity, detailing his legal, political and community efforts to address systemic racism. Although cardiac amyloidosis and polyneuropathy have necessitated a lighter workload, it is clear Oliver is not ready or willing to pass on the torch just yet. After all, there is a 400-years-and-counting legacy of systemic racism to contend with and there are still many ways he can have an impact.
"I am optimistic for the future of Canada, insofar as white-Black relations are concerned," he says. "I think that there are more people who are taking up the cause, who are saying, 'Enough's enough. It's time for a change.' For that reason, I'm very hopeful that things will continue to get better."