News
»
Go to news main
Donna Mbamy‑Conci named recipient of the Nora Hickson Kelly Award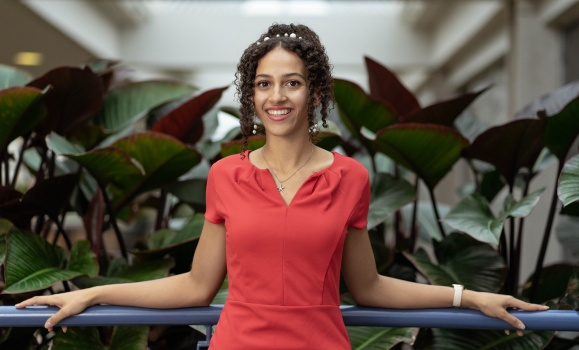 Congratulations to Schulich School of Law first-year student Donna Mbamy-Conci who was named a recipient of the Dalhousie Black Student Advising Centre's Nora Hickson Kelly Award. The Nora Hickson Kelly Award is granted to a student every year who contributes or plans to contribute to the Black Student Advising Centre (BSAC) and the community.
Mr. and Mrs. W.H. Kelly, through the Community Foundation of Ottawa, have been generously contributing to the success of the Black Student Advising Centre for several years. Mrs. Kelly was a well-known writer on RCMP history and an active member of the National Association for the Advancement of Colored People (NAACP) for over 25 years. After the passing of Mrs. Nora Hickson Kelly in 2005, the bursary was formed in her honour.
"It is an honour for me to be the recipient of the Nora Hickson Kelly Award. Mrs. W. H. Kelly and her husband generously contributed to the growth of the Black Student Advising Centre to better support Dalhousie African Black and Caribbean students," says Mbamy-Conci. "Their selflessness and desire to make an impact in other people's lives inspires and empowers me to do the same. This award is a reminder for me to continue pursuing my dream to make an impact in our communities through my education, advocacy, and support of those in need."
In addition to being a first-year law student, Mbamy-Conci is also in her third year of studies at Dalhousie's College of Pharmacy. "It has been an honour to be a student in two prestigious faculties at Dalhousie University, and my concurrent studies of healthcare and pharmacotherapy have been a way for me to impact our Halifax community," explains Mbamy-Conci.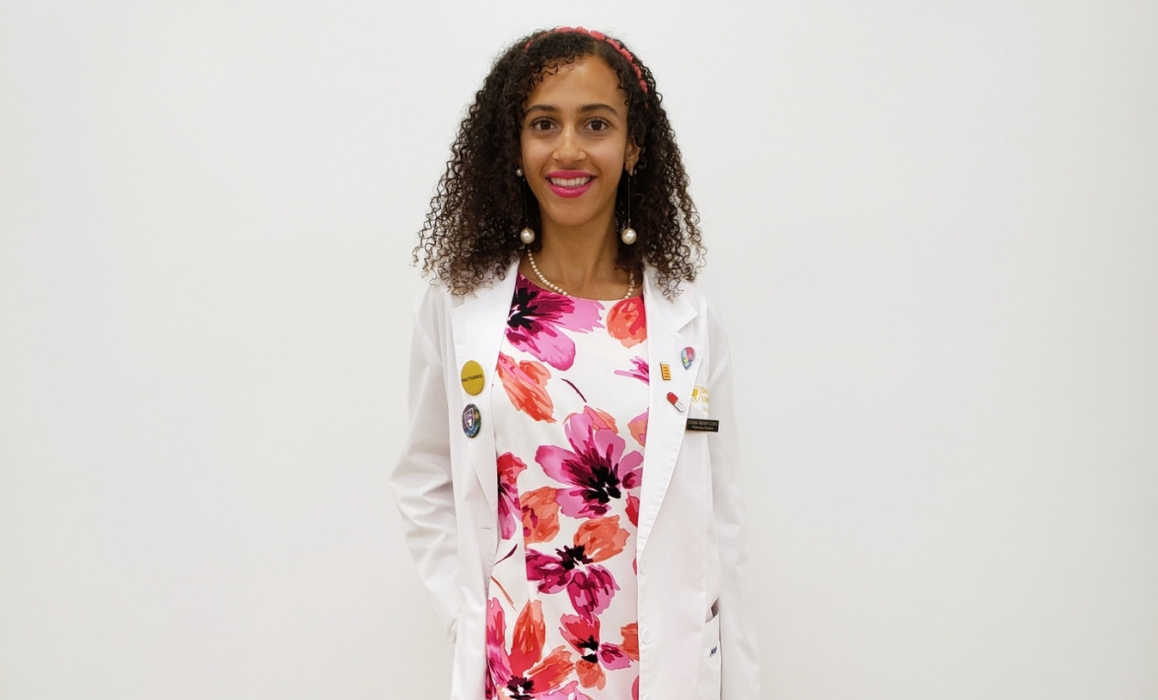 "My father and I dreamed of me becoming a lawyer ever since I was a little girl until he passed away when I was eleven years old," says Mbamy-Conci. "At the age of twelve, my passion for pharmacy grew as I started to work alongside my mother, who was a pharmacist. As an upcoming pharmacist, I dispense life-saving medications, advocate patients' concerns, and strive to ensure they receive optimal healthcare."
Halfway through the pharmacy program, Mbamy-Conci realized pharmacy would not provide sufficient grounds to fight for healthcare inequalities that mirrored racial obstacles she and her family experienced in Canada. This inspired her to return to her original plan of becoming a lawyer while attaining valuable knowledge and skills by completing her pharmacy degree.
"I am everlastingly grateful for the miracle to fulfill both of my parents' dreams to become a lawyer and pharmacist," says Mbamy-Conci. "Furthermore, I am very excited to be a source of advocacy, equity, upliftment and inspiration to every person I encounter and support."
Mbamy-Conci is a first-year representative of the Dalhousie Black Law Students' Association (DBLSA) and holds numerous student healthcare positions. Within the faculty of pharmacy, she is the president-elect of the Dalhousie Student Pharmacy Society, a student representative on the Pharmacy Awards Committee and a previous public relations director. She is also a student representative on the Faculty of Health Equity and Inclusion Committee and holds the student position on the Pharmacy Association of Nova Scotia Board of Directors.
In the community, Mbamy-Conci is a youth team leader with the Nova Scotia Community Alliance, whose mission is to educate African, Caribbean, and Black (ACB) Nova Scotian Youth on sexually transmitted and bloodborne infections (STBBI). In coordination, Mbamy-Conci created a team of pharmacists and pharmacy students that designed an educational tool to help dissolve the barriers that ACB youth experience when seeking medical care and support for these matters.
Mbamy-Conci is also a Second Lieutenant in the Royal Canadian Air Forces and a glider pilot instructor, teaching air cadets how to fly. She also has her private pilots license and empowers youth ages 12-18 as the Level One and Supply Officer at 292 Halifax Fairview Air Cadet Squadron.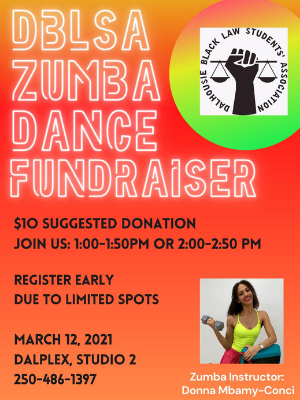 In her free time, Mbamy-Conci is a certified personal trainer, group fitness instructor, and weight trainer who aims to enhance the wellness of others by teaching Zumba, BollyX, Pound, Xtreme Hip Hop, and Tabata. She is currently planning to teach Zumba lessons to members of BSAC to help promote health and fitness within the student community. On March 12th, Mbamy-Conci will be teaching two Zumba fundraiser classes at the Dalplex in support of DBLSA.
Mbamy-Conci would also like to remind the Schulich Law community that during Black History month, DBLSA is selling t-shirts with 20% of the proceeds going to Hope Blooms Scholarship Fund and the Glace Bay UNIA Community Hall." To purchase your t-shirt, you can visit the LSS website.
Congratulations Donna on this well-deserved honour and for your meaningful contributions to the community.