News
»
Go to news main
Introducing the Schulich Dance Society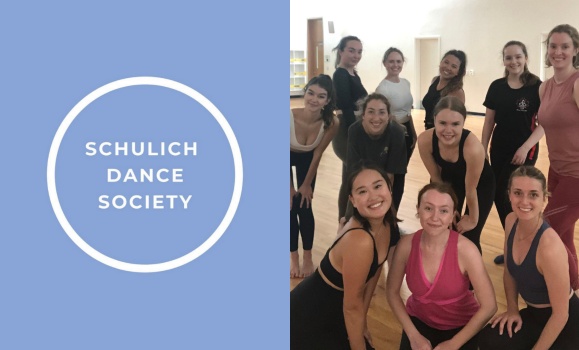 Student life at the Schulich School of Law is enriched through the activities and initiatives of its many student societies. The Dalhousie Law Students' Society (DLSS) encourages students to join existing groups or form a new society in their area of interest. As we welcome students back to campus, we look forward to seeing students connect through both old and new student groups.
Recently, Karen Chen, President of the Schulich Dance Society, shared what brought her to Schulich Law, why she and her co-founders Jillian Newton (Vice President) and Katherine Stevenson (Treasurer) created the Schulich Dance Society, and how other students can get involved.
Could you start by sharing a bit about yourself?
My name is Karen Chen, and I'm a 2L from Toronto, ON. Outside of law school, dance and entrepreneurship have always been a large part of my life. During my undergrad at McGill University, I founded a dance company called Alegria, and it was one of the most rewarding experiences I've had to date. I first had the idea to create a dance society when I realized there wasn't one at the law school. Alongside my fellow classmates Jillian Newton (Vice President) and Katherine Stevenson (Treasurer), we began the process of creating a ratified society and a community for dancers at Schulich.
What is the Schulich Dance Society?
The Schulich Dance Society is a recreational dance club run by students at the Schulich School of Law. Our society was founded to uphold the Weldon tradition of unselfish public service. We aim to provide all students with the opportunity to dance, regardless of their skill level, at an accessible and competitive price point. 
Why did you decide to start the Schulich Dance Society?
We decided to start the dance society to share our love of dance with Weldon. In my experience, the biggest reward of dancing is being part of a community and a team. The relationships created in the dance studio are extremely special, and I missed that unique bond during 1L. Law school is stressful, so we wanted to create a community for law students with an interest in dance. Our goal for the Schulich Dance Society is to create an environment where members can have a creative outlet, exercise, and meet peers with a common interest!
What can members of the Schulich Dance Society expect?
The Schulich Dance Society will be offering drop-in dance classes every Saturday. Members can expect a variety of different genres, from ballet to contemporary to heels. Classes will be available for both beginner and advanced dancers. Most importantly, all our dancers can expect a fun, welcoming, and safe environment!
What is your favourite thing about dance?
My favourite thing about dance is the opportunity to express yourself creatively through movement and performance. It's the perfect intersection between art and athleticism. I'm extremely excited to see how the Schulich Dance Society will grow over the years. Eventually, our goal is to host a large-scale performance as a fundraiser to give back to the community!
To learn more about the Schulich Dance Society, follow their Instagram or reach out to Karen at schulichdancesociety@gmail.com.
We love hearing and sharing stories about our student community and their impact and know it's the reason why so many students choose the Schulich School of Law. If you are interested in sharing your story or introducing your student society, please reach out to lawcomms@dal.ca.