News
»
Go to news main
New Faculty Appointments in 2021
Posted by
Joel Guerin
on September 8, 2021 in
News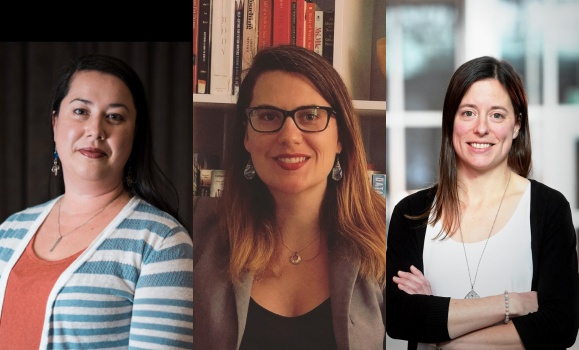 We are pleased to welcome Cheryl Simon, Suzie Dunn and Karinne Lantz as new faculty members of the Schulich School of Law.
Cheryl Simon is an Assistant Professor who will teach Property and Special Issues in Aboriginal Law and Indigenous Governance at the law school. She is a proud Mi'kmaq woman from Epekwitk (PEI) with extensive experience in community-based policy development. She completed her BA in Native Studies from the University of Lethbridge and a law degree from the University of Victoria. She also studied Maori law and comparative Indigenous studies in New Zealand. She completed an LLM with a constitutional specialty at Osgoode law school in 2020. After briefly practicing law, Simon worked as manager of Governance Advisory Services with a national organization. She worked with First Nations communities across the country, assisting in developing governance models based on traditional systems before opening her own consulting business. Simon moved on to work for Mi'gmawe 'l Tplu'taqnn, a Treaty rights implementation organization, while teaching courses on identity law with Cape Breton University.
"I look forward to sharing Mi'kmaw law and an Indigenous perspective on Canadian law with my students," says Simon.
Suzie Dunn is an Assistant Professor in Law & Technology for 2021-2022. She will teach Contracts and Law and Technology in the first semester, and Contracts and Intellectual Property in the second term. She is currently a PhD candidate at the University of Ottawa, Faculty of Law. While at the University of Ottawa, she acted as a part-time professor where she taught Contracts Law and the Law of Images. She was awarded the Joseph-Armand Bombardier Scholarship for her research which centers on the intersections of equality, technology and the law, with a specific focus on technology-facilitated violence, deepfakes, and impersonation in digital spaces. She will also coach the Harold G. Fox Intellectual Property moot team. You can find her on Twitter @SuzieMDunn or visit her website at www.suziedunn.com.
"I'm looking forward to working with the law and technology faculty and students at Dalhousie's Schulich School of Law," says Dunn. "Nova Scotia has a rich legal history in addressing technology-facilitated harms, and I hope to contribute to that work during my time here."
Karinne Lantz is already part of the Schulich Law Community as a PhD student. She will also take on the role of Instructor for 2021-2022 teaching Torts, Civil Procedure, and International Human Rights Law.  Lantz received a JD and MA in international affairs through a joint program with the Faculty of Law at the University of Ottawa and the Norman Paterson School of International Affairs at Carleton University. She then completed an LLM in international law from the University of Cambridge. She also holds a BA in political science and international development studies and a BSc in chemistry from Saint Mary's University. Her general research interest is public international law and, specifically, how international law can be used to address existing and emerging challenges.
Her current doctoral research explores the domestic and international dimensions of the international human right to health, and how international law can be used to implement and secure the right to health for vulnerable populations in Canada and abroad.  Prior to her doctoral studies, Lantz was an assistant professor at the University of Saskatchewan's College of Law.  She previously practiced labour and employment law in Toronto and worked as a labour relations officer for a faculty association in Saskatchewan. 
"The aspect I am looking forward to the most is being in the classroom again with students. I enjoy teaching and, in particular, having the opportunity to teach 1Ls," says Lantz. "I still remember clearly my days as a 1L, and I think part of my role is to help students get used to law school and to set a firm foundation for their years in law school to come."
Join us in welcoming these new faculty members to our Schulich Law community and wishing them well as they embark on their new roles.