News
»
Go to news main
Creating Meaningful Access for Everyone
Posted by
Joel Guerin
on August 27, 2021 in
News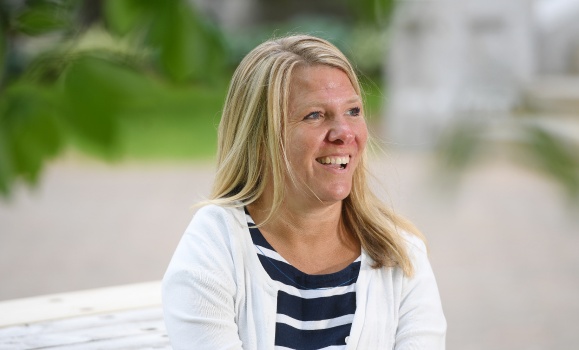 Meet Michelle Mahoney, a surfing, skiing, skyscraper rappelling, accessibility advocate. Doing just one of these things would be impressive enough, but what makes Mahoney's story genuinely inspiring is she has done this all with a condition called arthrogryposis that limits the mobility of her arms, hands, and knees. From a young age, she's lived by her life motto "I can do anything, it just might take me a little longer." With that in mind, she's continually showcased and taught others that anything is possible with determination and a positive outlook.
Mahoney has worked at Dalhousie for 22 years. Her work as a receptionist and career development office assistant has taken her from the oldest building on campus (the Forrest Building) to one of the newest (the Collaborative Health Education Building) to her current home at the Weldon Law Building. It's a journey that has had its share of challenges, but Mahoney says she uses her many experiences and perspectives as motivation to push for change.
In 2017, Nova Scotia passed the Accessibility Act, becoming the third Canadian province to adopt accessibility legislation. The Act recognizes accessibility as a human right and outlines how the province will improve accessibility by preventing and removing barriers. The Act sets a goal of an accessible Nova Scotia by 2030.
In 2019, Dalhousie began its efforts to develop an Accessibility Plan. Since then, Mahoney has brought her passionate perspective to Dal's accessibility planning as a member of the 'Education' and 'Employment' working groups and the university's accessibility advisory and steering committees.
Mahoney has always said it is her "life purpose to educate people that anything is possible," and when the opportunity crossed her desk to continue her own learning, she knew it was the right step forward. As a Steering Member of the Dalhousie Accessibility Plan, the Rick Hansen Foundation Accessibility Certificate piqued her interest. After discovering the program, she approached both HR and the course instructor to see if the program would be a fit.
Mahoney has now successfully completed the Rick Hansen Foundation Accessibility Certificate (RHFAC) Program at NSCC, passing her course and certification exam in July of this year. When asked what it means to complete this certificate, she says, "It means a lot to me, as it complements the knowledge I already have as a person living with a disability. It provides me with more knowledge and practical skills needed to rate buildings for their overall accessibility under the RHFAC program." She is eager to apply this new skill set within Dalhousie and the Schulich School of Law to identify and improve the accessibility of the built environment for people with disabilities.
"The RHFAC is a much-needed tool, especially with our province having the mandate to be accessible by 2030," says Mahoney. "We have a lot of work to do, and I am so excited for what I have learned and to be a part of any opportunity that comes my way.
Congratulations Michelle! We are excited to see how you continue to live the Weldon Tradition and create meaningful access for everyone.