News
»
Go to news main
Meet Folu Adesanya, Class of 2021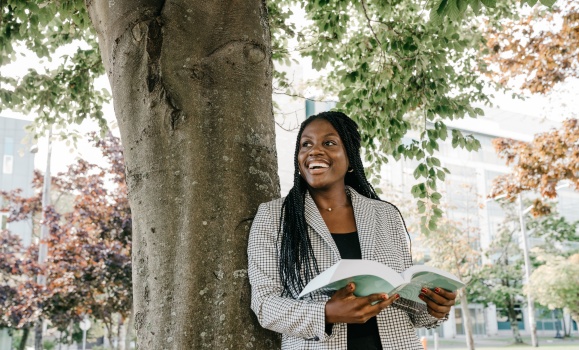 Congratulations to the Schulich School of Law's Class of 2021! In the coming weeks, we'll feature Q&As with graduating law students who will reflect on their time at Weldon. Today we're talking to Folu Adesanya.
Why did you want to attend the Schulich School of Law?
Although I lived in Ontario for almost 17 years, I have always called the East Coast home. I was born in Halifax, Nova Scotia, but moved away when I was two years old. When applying to law schools, I knew that I wanted to come back out to Halifax. When I received an offer from the Schulich School of Law, I accepted right away! Not only was Schulich Law in my dream city, but it offered a number of specializations and experiential learning opportunities that I was greatly interested in. 
In what ways were you involved with the law school community?
I have been involved in a number of amazing experiences and extracurriculars during my time in law school. In my first year, I completed a Pro Bono project under the direction of Professor Michelle Williams. Pro Bono really helped me to hone my legal research and writing skills - it was also so cool seeing a project through from start to finish. Throughout 1, 2, and 3L, I was also involved in the Dalhousie Student Advocacy Services (DSAS) as an Advocate, and the Dalhousie Black Law Students' Association (DBLSA). This year, I was the Vice President of Communications for DBLSA - sharing content through our social media channels to promote Black History Month, and various other fundraising events. In between all of this, I also volunteered as an Ambassador for Schulich Law, did a super-fun Instagram takeover, and have sat on several student panels. 
What is your favourite law school memory?
My favourite law school memory has got to be completing 1L! Nothing could ever beat the feeling of finishing the Property exam and running outside onto the front steps to celebrate alongside of 150 of my closest friends, haha!
What will you miss most about Schulich Law?
I will miss a lot about Schulich Law. Having to complete part of 2L, and all of 3L online certainly wasn't easy. I quickly came to realize that I took the little things for granted - like running to Pete's with friends between classes, or catching up with classmates in the atrium after a fun weekend. However, the thing that I will miss most about Schulich Law is the people. I am grateful to have had the opportunity to learn from some amazing legal minds. And of course, I will miss the many, many incredible friends that I made throughout these past three years. 
What are your post-graduation plans?
At the end of May, I will begin articling at Stewart McKelvey (Halifax)! I feel so lucky to have landed my dream job in my dream city, and to be working alongside some amazing friends (shoutout to Eyoab, Liz, Shan, Hannah B, and Rachel A). I look forward to the future and I am forever grateful to the Schulich School of Law for an incredible three years.