News
»
Go to news main
Meet Tahnee Prior, Schulich Law's Killam Postdoctoral Fellow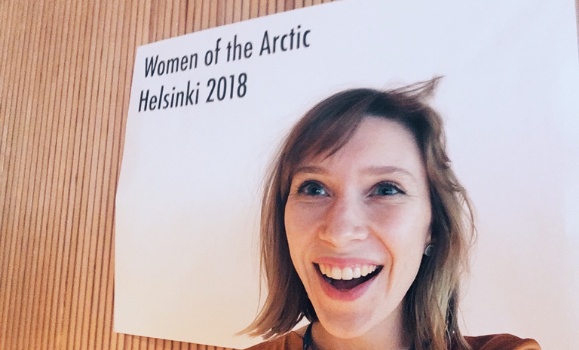 In January of 2021, Tahnee Prior joined Schulich Law as a Killam Postdoctoral Fellow. While at Schulich Law, Prior aims to deepen her legal knowledge and continue her research on gender and oceans governance in the Arctic. We asked Prior how she ended up at Schulich Law, where her passion for issues relating to women and gender in the Arctic stem from, and what she hopes to see happen in relation to climate change and sustainability in the future. 
What brought you to the Marine & Environmental Law Institute?
My PhD in Global Governance focused on the intersection of law and complex systems theory with the Arctic as a case study. This research process fueled my desire to deepen my legal knowledge and continue my research on gender and oceans governance in the Arctic at a Canadian law school. The Marine and Environmental Law Institute seemed like the perfect fit. I was especially excited at the prospect of working with Professor Sara Seck whose work on gender, human rights, and relationality serves as a particular complement to my postdoctoral research; I have much to learn from her. I'm also looking forward to being a part of the same Institute as David VanderZwaag, Aldo Chircop, and Meinhard Doelle, whose work I'm familiar with thanks to my previous research. Finally, after being on the move for the last decade, I'm thrilled to be living back in Nova Scotia, where I spent a very happy part of my childhood.
What do you want to see happen in relation to climate change and sustainability?
Two things come to mind based on my most recent research. First, I want to see greater support of collaborative, interdisciplinary research between the natural and social sciences, including the law. There are increasingly bold proposals for navigating away from current trajectories, leading to a 2°C rise in temperature that could flip humanity into an irreversible stable state known as "Hothouse Earth", to an alternative "Stabilized Earth" through the adaptation of our behaviour, human values, equity, institutions, economies, and technologies. Uncertainty and debate remain around how this can be done – technically, ethically, equitably, and economically. The law – including property rights, environmental, business, labour, and human rights law, among others – plays a significant role in re-orienting and restructuring our systems. In this regard, a more nuanced understanding of how law is used to maintain stability or enable change is integral to our ability to move forward with many of the ground-breaking proposals put forth by policymakers and activists alike.
The second builds on my work related to gender and environment in the Arctic, where my colleagues and I were unfortunately unsurprised to find a significant dearth of gender- and sex-disaggregated data. This reality often presents a limited understanding of the multifaceted nature of climate change, and contributes to gender-blind, inaccurate, incomplete, and at times outdated policymaking. Of course, this isn't unique to the Arctic context. Factors like gender, age, wealth and class play a critical role in how climate change is experienced globally, which is why I would love to see a change in how official gender- and sex-disaggregated data is collected. Such a shift requires governments, statistical agencies, and universities to work together.
Where did your passion for issues relating to women and gender in the Arctic come from?
I've spent the past decade actively engaging in Arctic research in both the Nordics and Canada. Over the course of this time, I noticed that gender-related issues were often relegated to gender-specific conferences. I also noted that the equal representation of women and their perspectives often remained missing from debates, despite their critical role in community, their societal and political engagement, and their high level of expertise across different issue areas. This became especially visible once the number of Arctic conferences, events, and policy-meetings ballooned over the past decade. Initiatives focusing on the challenges and successes of Arctic women remained few and far between, while conversations related to gender remained on the margins. 
Together with my colleague and friend, Gosia Smieszek, we set out to change this trajectory. In 2018, with a grant from the Nordic Research Foundation, we brought together women from across the Circumpolar North to participate in a two-day event titled "Women of the Arctic: Bridging Policy, Research, and Lived Experience" at the University of the Arctic Congress in Helsinki, Finland. Building on ongoing efforts to better understand gender equality in the Arctic, we sought to carve out a non-academic space for women to explore their roles and contributions to northern policymaking, research, exploration, art, activism, and daily life. This included a collaboration with The Arctic Cycle – a New York-based arts organization that uses theatre to foster dialogue about the global climate crisis – who wrote and presented an original play focused on the intersections of climate change and human trafficking in the Arctic. We also partnered with creative communications collective What Took You So Long to document the event and film interviews with speakers and participants about their professional and personal stories. These materials – including 100+ video interviews – can be found on our digital storytelling platform.
Inspired by the many incredible women that we met in Helsinki, and with a desire to maintain a long-term focus on the issues that were raised, we decided to register "Women of the Arctic" as a non-profit association in Finland in 2018. Since then, my passion for these issues continues to be reinforced by the women I have the privilege of interacting and working with.
What are your future plans? 
I foresee a medley of academic and non-academic endeavours. Over the past three years, I have done my best to juggle my doctoral research with my work related to gender in the Arctic. In applying for the Killam Postdoctoral Fellowship, I made a concerted effort to bring together these two areas of my work. By the time I had finished writing my dissertation, I knew that I wanted to continue to focus my work on the 1982 United Nations Convention on the Law of the Sea (UNCLOS), one of the fundamental frameworks governing our oceans and the Arctic. I am curious about how it seeks to manage the complex geophysical and social-ecological changes related to the Arctic Ocean. Specifically, my project looks at the application of the Convention to women in the context of the Arctic marine space and maritime activities. It is also set to include fieldwork interviews in Alaska which are dependent on the status of international travel in light of the ongoing pandemic. Still, my undertaking of this project at Schulich Law seems particularly serendipitous after Professor Seck recently introduced me to the work of Elisabeth Mann Borgese, a former professor at Dalhousie and founder of the International Ocean Institute, on the oceans and gender. Beyond this project, I look forward to spending some time revisiting and publishing my doctoral research.