News
»
Go to news main
Using a law degree to leverage technology
Posted by
Allison Lawlor
on February 19, 2021 in
News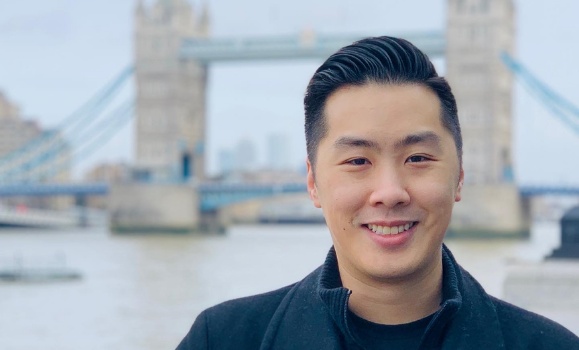 Justin Pon ('18) may be the first lawyer in his family, but he isn't feeling pressure to excel in a field none of his relatives have gone before; instead he is excited to be taking a new path - using his law degree to leverage technology, and disrupt old concepts of law.
"Whenever I talk to students, I always encourage them to look beyond the traditional legal sphere," says Pon. "There are a lot of interesting ways you can use your legal degree."
Pon has found one. In 2019, he joined Shareworks by Morgan Stanley. Working from the company's Calgary office, he immediately became immersed in the world of global intelligence, lending guidance to multinational clients on how to manage the complex world of compliance for their global equity plans.
"Literally everyone asks me what I do for work," he says.
"A client might call me and say, 'I want to offer stock options in Japan. What do I have to do?"
Pon provides the information his clients need to manage equity-related global legal and tax compliance issues to help them reduce their risk. He also leads North American business development for his group. This part of his job often takes him to the United States. Standing in a boardroom, surrounded by a company's financial officers, he often gets a similar reaction.
"You're so much younger than we expected," they tell him. "I look a lot younger than I am," he adds with a laugh.
Growing up in Calgary, Pon dreamed of becoming a lawyer. The legal shows his parents watched on television, like Law and Order, made the job look glamorous. But Pon's practical side led him first to become an accountant. After graduating from the University of Calgary, he worked as a legislative auditor for the Auditor General of Alberta. He liked the work, but couldn't ignore the call of law.
"The farthest east I had been was to Toronto before Dal," he says. "I was like a fish out of water when I first arrived."
Coming from a close Asian-Canadian family and being a minority at law school was initially hard. He soon got involved in the national coalition, the Federation of Asian Canadian Lawyers. Still part of the organization, he now serves as treasurer of its western chapter. Providing a good source for mentorship and networking, he is also part of its efforts to increase equity among Asian-Canadian legal professionals and to increase diversity on the bench.
"Traditionally law has not been a minority-dominant profession," says Pon, who speaks Cantonese and is now learning Mandarin, a language that he believes will be an asset for his work. "Having that mentorship network, along with their advocacy to further Asian Canadian special interests in the community, has been something that I like being involved in."