News
»
Go to news main
A transformative internship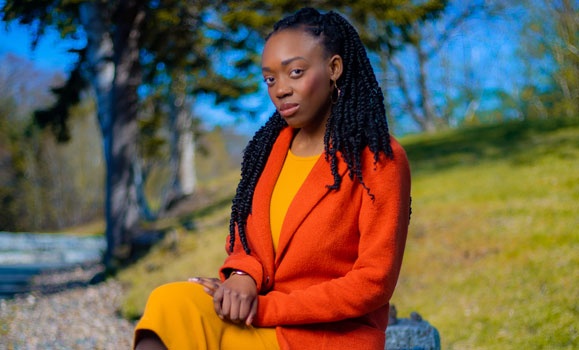 The Schulich School of Law Internship Program started in 2009 with a small number of internships funded by The Schulich Foundation. Thanks to their generosity, many other donors were inspired to contribute to the program. Just over a decade later, it has grown to be the largest paid summer internship program for law students in the country. Since its inception, 240 students have completed summer internships in over 80 organizations in Canada and around the world with more than $1.2 million in funds awarded. An internship not only provides a meaningful work experience for students but can also help shape their career path.
Mukisa Kakembo was awarded the Pink Larkin Internship in 2019, a summer internship in law for a first-year diversity student. She spent her summer working at the Elizabeth Fry Society of Mainland Nova Scotia, a local non-profit organization that engages with vulnerable women to foster personal empowerment and address the root causes of criminalization.
A unique opportunity
Her goal going into her internship was to learn to advocate for human rights. "As a student in the Indigenous Blacks and Mik'maq Initiative, I want to use my future legal career to work on issues of equality and equity, to meaningfully support my community."
Kakembo achieved her goal and more. "My internship gave me the opportunity to provide legal support for women in Nova Scotia and advocate for the rights of diverse cis and LGBTQ+ women. I gained experience in the field of prison law, criminal law, civil law and family law. It was a unique opportunity to work with clients and support them through some of the most difficult circumstances of their life. It was an emotional, yet very empowering journey."
Her main role was to provide legal research, analysis, and assistance to clients, the staff lawyer, and the executive director. Her duties included conducting research to improve women's access to justice, meeting with clients, assisting women in finding legal representation, helping women in completing record suspension applications, filing FOIPOP applications, and finding housing for women transitioning out of prison.
Kakembo's internship also gave her the opportunity to learn about and work on access to justice issues. She felt fortunate to be able to attend the Imagining Black Justice event organized by El Jones, which was an educational one-day workshop addressing issues of justice affecting Black Canadians.
More than legal work
However, her role was about more than legal work. She was able to support women on a personal level. "The relationships I built with both the staff and clients gave me a much wider understanding of the impact of criminalization, and which community supports are needed to build women's resilience so that they can be successful in the future. I gained invaluable skills that have made me even more passionate about working towards social justice in the field of law."
In fact, the highlight of Kakembo's internship was helping to get women out of prison and connecting them to the resources they needed to support their reintegration into society. This experience impacted her both personally and professionally, helping her face her own learned bias about people who have been criminalized.
"I gained a new perspective by talking to clients about their lives. Seeing the complexity of their backgrounds and experiences reduced any stigma I may have had towards criminalized people. I got to witness people's journeys and see how the Elizabeth Fry Society empowers them to heal, pursue higher education, and find employment when given the proper environment. Overall, the highlight of my experience was gaining the skills to be a resource for our clients."
I gained a new perspective by talking to clients about their lives. Seeing the complexity of their backgrounds and experiences reduced any stigma I may have had towards criminalized people.
Working at the Elizabeth Fry Society showed her the unique challenges women face within the criminal justice system, teaching her to apply a feminist lens when analysing law enforcement and legal institutions.
"The clients I worked with had faced trauma, were living in poverty, or had health issues. This experience made me think more critically about the principles of our criminal justice system, and the lack of support for rehabilitating offenders," says Kakembo. "Most wanted to improve themselves, but they didn't have the money nor resources. When people are empowered with the tools they need to thrive, they have more to give back to their families and communities. If the criminal justice system gave those who have been criminalized the opportunity to get the help they need, we would undeniably have a stronger society."
Working toward systemic change
This experience affirmed her belief that the criminal law system needs deep systemic change to better address women's needs. Particularly, change that would address the needs of Indigenous and Black women, who she believes require a more holistic and culturally appropriate approach. "This internship motivated me to fight to change the meaning of justice to one that prioritizes rehabilitation and reconciliation, rather than punishment."
Before her internship Kakembo was not interested in practicing criminal or civil law, but now sees how working in these fields can improve access to justice.
"My internship sparked my interest in anti-discrimination work, human rights work, and litigation. I'm now also interested in law reform and using the law to make institutional change." She says that working with the Elizabeth Fry Society has expanded her options for the areas of law she would like to pursue.
"This experience shaped my worldview and allowed me to go into second year with new perspectives on the law, and a new analysis of the criminal justice system, its functions, its rationale, and how it impacts people's lives." says Kakembo. "I learned how to carry out legal advocacy work and protect people's rights, which was truly a dream come true."
Kakembo's first year internship showed her that there is an entire field of women's rights and feminist litigation that ultimately led to her second year internship at the Women's Legal Education and Action Fund. She started her third year at Schulich Law this fall.