News
»
Go to news main
Focusing on human rights abroad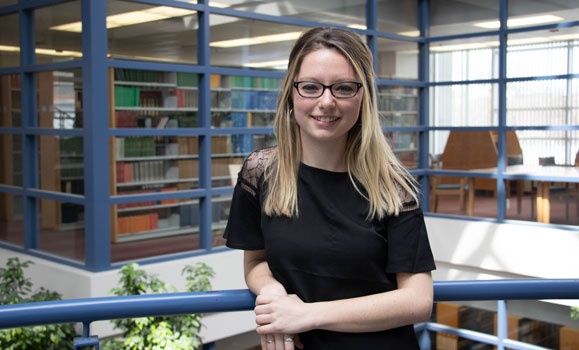 During her second-year, 3L student Lindsey Wilson travelled to Cape Town, South Africa, to intern at the Projects Abroad Human Rights Office. One of the world's leading volunteer organizations with projects in more than 50 countries, Projects Abroad encourages young people to do worthwhile work in developing countries. The mission of its law and human rights program is to promote and protect the fundamental human rights of vulnerable and disadvantaged groups in society by providing pro bono legal services, education, training, research and abuse resolution.
Wilson spent her internship working at a Cape Town legal clinic because she wanted to gain legal experience in a new environment in order to gain a different perspective on the law, in addition to working with people with whom she otherwise would never have a chance to interact. "My expectation was to learn how to communicate with clients and other legal professionals while overcoming language and cultural barriers," she says. "I looked forward to using the cultural competency strategies I was taught at the very beginning of my first year of law school during Orientation Week."
Wilson was thrown into the legal environment, working on up to 43 files at once. The issues touched on various areas of the law, including property, family, negligence, refugee, contract, employment and wills and estates. She drafted factums, affidavits, declarations for the certification of refugee status, divorce summons and letters of demand. She also made an appearance in front of the Refugee Appeal Board. In doing so, she discovered something valuable about the work process.
This experience has made me a better law student, and it'll make me a better lawyer."
"I'm used to working on something until I've completely finished it, but I learned that this couldn't be the case when working in law, and especially at a legal aid clinic. I had to learn how to prioritize and adapt my time-management skills," says Wilson. "There were so many cases that needed our help, and there was also a lot of waiting, whether it was on the client, the employers or the government."
Living in Cape Town, Wilson noticed that the city was still feeling a lot of the aftereffects of apartheid and racial discrimination. "I learned a lot about the people and a lot about myself. I worked on many refugee files where the outcome was a matter of life or death for the clients. Working with those clients, as well as ones who couldn't afford to pay for a university exam or the bus fare to come to our office, allowed me to develop a different perspective on how the law impacts individuals. This experience has made me a better law student, and it'll make me a better lawyer."