News
»
Go to news main
Combining law and a love for the sea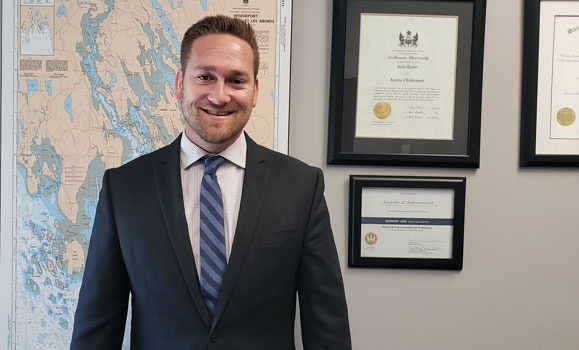 Although Jocelin d'Entremont (JD '12) has been practicing fisheries law and marine law at Hood Fraser d'Entremont Law Firm in Yarmouth, N.S., since 2013, his personal connection to the sea dates back to his childhood. At 14, he started working on his father's lobster-fishing boat in Pubnico, an Acadian village near Yarmouth, on the weekends and during school vacations, even though being on the water made him a bit queasy.
"My world was lobster fishing growing up," says d'Entremont, whose brother, grandfather, uncles, and cousins also fished for a living. "But everyone in my family who fished told me to go to school, because fishing is a volatile industry. Times might be good now, they'd say, but what happens when the catches are poor?"
Because d'Entremont found the business of fishing interesting, he decided to study commerce at Saint Mary's University. "Fishing is our family business," he says. "I wanted to participate in whatever way I could. During my undergrad, I worked as a deckhand on Dad's boat from December to January, then after my final exam in April I'd hop on the boat and fish until the end of May, when the season closed."
Although I no longer go fishing like I used to, I'm still very connected to the fishery. It's really satisfying to work in an area of the law that means so much to me.
More opportunities in a small town
When d'Entremont completed his commerce degree in 2009, the stock market had crashed. Jobs for new grads with BComms were scarce, and he didn't want to be an accountant. "I'd been told my entire life that I should be a lawyer because I talk a lot and I don't take no for an answer," he says. "I didn't want to be seasick every day of my life, and someone I knew was taking the LSAT, so I decided to take it too."
D'Entremont applied to just one law school: the Schulich School of Law. It appealed to him because of its Marine & Environmental Law Institute. He took Law of the Sea, Maritime Law, Fisheries Law, and Aboriginal Law, which covered the impact of the Marshall decision on the development of a Mi'kmaw commercial fishery. "The Law of the Sea with Aldo Chircop and Fisheries Law with David Henley were the most interesting and applicable courses I took," he says.
The summer after his first year, d'Entremont went crab fishing with his brother in Cape Breton. Of his classmates, he was the only one with practical experience. "I've sat at the helm of the boat so I was familiar with how to avoid collisions, which was taught in one of my classes, because I had done it in real life." While at law school, he saw that lobster fishing was becoming more lucrative at home, and he noticed how often fishers were using lawyers for all sorts of things, including securing million-dollar loans, boats, and licences.
After doing his articles in criminal and family law at a Dartmouth firm, d'Entremont joined Hood Fraser, where he became a partner in 2017. He knew that small towns needed more lawyers, and that there would be more opportunities there than in a bigger centre; plus, it was close to home. During his first year, he helped fishers buy boats and licences and represented clients facing Fisheries Act charges in court. "Most of my files are fisheries-related in one way or another," he says. "I draw on my skills knowing the fishery firsthand as much as my skills as a lawyer."
Although his days working as a commercial fisherman are over, d'Entremont still has a fishing licence so he can help out on his brother's boat if he needs an extra hand. "Although I no longer go fishing like I used to, I'm still very connected to the fishery. I feel like because of my experience, I add value for my clients. It's really satisfying to work in an area of the law that means so much to me."