News
»
Go to news main
Law student receives inaugural Sarah Welch Prize in Criminal Law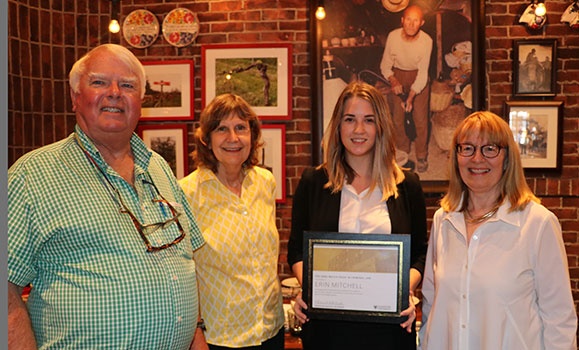 Congratulations to Schulich School of Law student Erin Mitchell on receiving the first Sarah Welch Prize in Criminal Law. Mitchell, who will start her third year of law school in September, was awarded the prize at a luncheon in Halifax on July 18.
The family, friends, and classmates of Sarah Welch, who died of cancer last year at age 66, established the Sarah Welch Prize in Criminal Law. The endowed fund at the Schulich School of Law honours Welch's memory, accomplishments, and tireless support of her profession as a Crown prosecutor.
"Sarah's career was in law, and she loved the law," says her brother Tom Welch. "She was very fair-minded, meticulous, and detail oriented. She was also great fun and warm-hearted. This prize memorializes her contribution to the profession."
Born and raised in Toronto, Welch practised as a Crown prosecutor for the province of Ontario after earning her law degree at the Schulich School of Law in 1977. As head of the Etobicoke Crown's office, she mentored and championed the work of 35 assistant Crown attorneys. In 2001 she was presented with the Frank Hoffman Award, the highest recognition bestowed upon an Ontario Crown attorney.
Creating opportunities for others
The $1,000 prize recognizes second- or third-year students who are interested and skilled in the pursuit of criminal law, based on an essay they write in a course relating to criminal law. Mitchell wrote her 9,000-word essay, "Do Not Throw Away Their Shot: The Need for Criminal Sanctions Against Parents Who Don't Vaccinate Their Children," for Professor Stephen Coughlan's Criminal Law Problems class in second year.
"I really put my heart into my paper, but I wasn't sure I did the subject matter justice," says Mitchell, who is interested in how religious and conscientious beliefs interact with the criminal justice system. "The prize is affirmation that I did a good job."
Mitchell is a grateful first recipient. "Financial prizes are always amazing for students, and any amount of money helps with rent and tuition," she says. When speaking about Welch, she maintains that it's important to have female influences in law. "Hearing about Sarah, who did so much professionally, has inspired me. She was a trailblazer for my generation."