News
»
Go to news main
Meet David Slipp, Class of 2019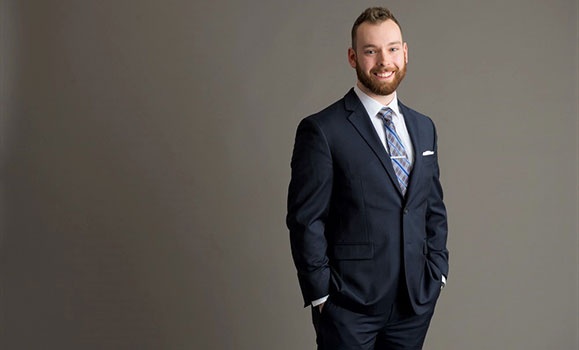 Congratulations to the Schulich School of Law's Class of 2019! Every Wednesday in May, we'll feature a Q&A with a graduating law student who will share their thoughts on their time at Weldon. Here, we profile David Slipp.
Why did you want to attend the Schulich School of Law?
When I decided to apply to law school, I narrowed the decision down to about four schools. Before I applied to any of them, I reached out to talk to students who were in the programs. Talking to the Schulich Law students was a whole different experience from the others. While everyone could tell me about the curriculum and what I'd study, the Schulich Law students also told me all about the school's atmosphere and traditions and offered to connect me with other students with similar interests. Schulich Law was the only school I applied to.
What were your favourite classes and why?
The ones that focused on the practical side of law and how it operates in the real world. It's interesting to learn the theoretical underpinnings of different areas, but I like to see how policy choices change the landscape and affect people's lives.
What surprised you most about your law school experience?
I never expected the variety of people I'd meet or the different avenues in which we could study or work. I had the impression that everyone in law school would fit into the cookie-cutter idea I had in my head about what a law student was supposed to be. It was a pleasant surprise to find out that law school is a mixed bag of characters, and that we all have different ambitions and priorities. It was this variety in the student body that really made classes and the social aspects of the school interesting.
In what ways were you involved with the law school community?
In 1L I was the Section B representative and the 1L executive member of the Law Students' Society. I also joined the Weldon Welcome Days Committee, and I planned an event each March to welcome students who have been accepted to Schulich Law and to encourage them to attend. In 2L and 3L I sat as a student rep on the Admissions, Appointments and Academic Committees; I reviewed applications for admission and interviews, made recommendations for tenure track professorships and suggested curriculum changes and course proposals. Throughout my three years I was also involved with Pro Bono Dalhousie and intramurals, and I tried to get to a few Domus nights. I was an upper-year buddy and didn't miss a Pith & Substance. I tried (and failed) twice to win the annual student stand-up competition.
What is your favourite law school memory?
I don't have one specific memory, but I know I'm with my friends in all of my best moments. Some of my favourite memories related to my studies have to do with arguing back and forth over a difficult topic, trying to make sense of it. The best social memories are of the spontaneous times where a group of us would end up together almost by accident. There have been so many times that I've laughed so hard that I cried, or that I worked myself to death toward a goal and accomplished it, that I could never narrow it down to one.
What will you miss most about Schulich Law?
The people. Hands down. Not just my friends and classmates, but also the faculty and staff. I'll miss being part of such a small close-knit community.
What are your post-graduation plans?
In the weeks between school and graduation I'll be taking a short trip out West to explore the other coast, but after that I'll be staying in Halifax to complete my articles at Stewart McKelvey. I'd like to secure an associateship in the corporate group of the firm.
How will what you've learned about the Weldon Tradition influence your career?
The Weldon Tradition is about using the law to influence the world around you and help people. I hope that as I go through my career, I'll be able to use the social capital that comes from being a lawyer to give back to the Halifax community and hopefully have a small impact for the better.
How will you stay connected to your law school community as an alum?
Luckily for me, a lot of my friends will be staying in town, so keeping in contact with them will be easy. Otherwise, I think it will be a matter of reaching out every once and a while just to see how things are and being an active member of the Alumni Association.