News
»
Go to news main
Get to know part‑time faculty member Judge Alanna Murphy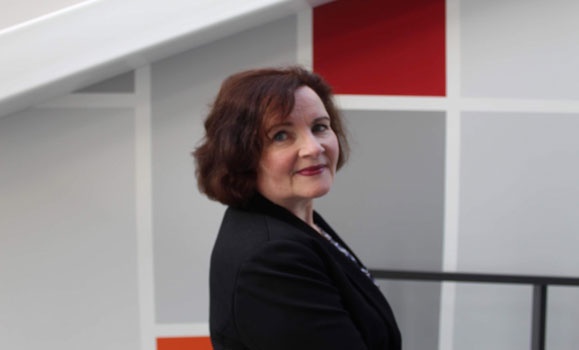 In a series of profiles, we'll introduce you to some of the Schulich School of Law's part-time faculty members. They are casually called "downtowners" because many of the almost 70 professors who teach evening classes here are practitioners who work in downtown Halifax. 
Dana-Lyn Mackenzie, the law school's director of Student Services and Engagement, works with the downtowners on their course requirements. "We couldn't run the law school without them," she says.
Dartmouth Provincial Court Judge Alanna Murphy (LLB '86) has been teaching Criminal Trial Practice to third-year students since the fall of 2016. This class uses lectures and simulated court proceedings, including bail hearings, sentencings, and trials, to develop advocacy skills and trial preparation. Early trials are heard before Provincial Court judges, and the final case is heard by a Supreme Court justice. Each student assumes the role of prosecutor and defence counsel, and occasionally witness.
Murphy took Criminal Trial Practice in 1985 when she was a law student. "It was my favourite course because it gave me the chance to be on my feet in a courtroom, which took me out of my comfort zone, and I have always had a great interest in criminal law," she says. At that time, it was taught by Judge William MacDonald (LLB '67), criminal lawyer Joel Pink (LLB '69), and Judge Elmer MacDonald (LLB '55).
There's a sense of satisfaction in sharing what I've learned over the 30 years I've practiced as a criminal lawyer and a judge. — Judge Alanna Murphy
Murphy had experience working with law students who had been assigned to her through the law school's Criminal Law Clinic when she was a lawyer, and she has supervised Pro Bono Dalhousie law students as a judge. When asked if she would be interested in teaching the course, she thought she'd enjoy it. "There's a sense of satisfaction in sharing what I've learned over the 30 years I've practiced as a criminal lawyer and a judge," she says. "Teaching makes you feel like you've had a fairly interesting career."
One thing Murphy shares is how students should present themselves in court. What impresses her is lawyers who are prepared and have personal integrity, a polished presentation, and respect for the process and the people who are part of it. She hopes to instill in her students a sense of confidence so they can become confident trial lawyers. "I don't want them to be overwhelmed when they're in court. I want them to have the tools they need to perform well."
Murphy learns from the students, too. "They have a really good foundation of the theoretical changes in the law and pose questions based on that. It's a nice reminder that the law is always changing. They'll refer to recent amendments to the Criminal Code that have not come up in my court yet, which provides me with an opportunity to consider the implications in theory before I deal with them in reality."
The best part of teaching is experiencing the students' enthusiasm and growth. "They really start to get it by the end of the term," says Murphy. "They're more comfortable and confident. It's very satisfying to witness that." One student from last year recently appeared before Murphy in court to do a sentencing submission. "I was very pleased with how she handled herself. She was using the skills she had learned in class. I have to admit that I felt a certain amount of pride."