News
»
Go to news main
Law student and basketball player recognized for skills both on and off the court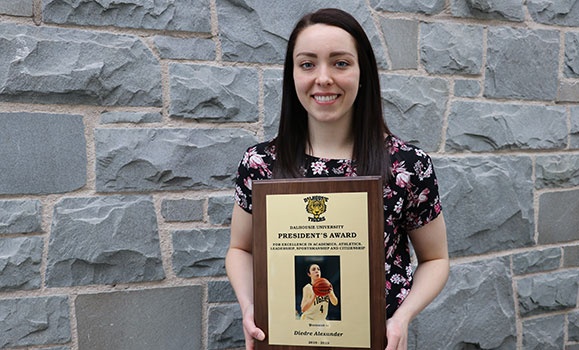 Second-year law student and varsity basketball player Diedre Alexander received the 2018–19 Dalhousie Tigers President's Award for Excellence in Academics, Athletics, Leadership, Sportsmanship and Citizenship at Dal's 65th annual Black & Gold Athletic Banquet on March 28.
"It's a huge honour even to be considered for this award," says Alexander, who plays guard and was team captain for three seasons. "I'm very proud to be an athlete at Dal. This award is a testament to Dal's athletics program because they invest in us as athletes, students, and leaders in our communities." The Woodstock, N.B., native started playing basketball when she was nine because "my parents made me," she says, laughing, "I loved it right away. Even at that age I was competitive, and basketball was a good way to funnel that energy."
Alexander admits that at times it was difficult to juggle schoolwork and her sport, especially when the team travelled for away games or when she had an especially busy week at Schulich Law. "I learned how to prioritize and work efficiently. There may have also been a few late nights of work, but most of the time everything was manageable." In addition to her academic and athletic achievements, Alexander has coached with Halifax Hurricanes minor basketball, volunteered with Special Olympics New Brunswick, and helped out with the Start2Finish Running & Reading Program in Halifax.
Teamwork is essential to everything we do within our sport. You can perfect your individual skills, but you're only doing that because of what it brings to the team.
Alexander was surprised to receive the award and considers it an honour that her coach, Anna Stammberger, nominated her. "Diedre has shown outstanding citizenship her whole five years as a Tiger," wrote Stammberger in her nomination letter. "In her last two years she has been a law student and excelled at managing this incredible triple load—winter varsity team, captain, law school—without requesting special exemptions. She always competed hard and fairly and held her teammates accountable while putting her team first."
This was Alexander's final year playing with the Tigers, but she doesn't plan to stop shooting hoops altogether. "I have mixed emotions, but I'll always find ways to play no matter what," she says. "Varsity basketball takes a lot of time, and I'm looking forward to experiencing other things. I want to learn how to play squash, explore Halifax and relax a bit more. But my team is a built-in support system, so I'll definitely miss that aspect."
Alexander's name may be the only one that appears on the award, but she insists that it belongs just as much to her teammates. "Teamwork is essential to everything we do within our sport. You can perfect your individual skills, but you're only doing that because of what it brings to the team. My team is phenomenal. They make me a better version of myself."