News
»
Go to news main
Darren Dick to join Schulich Law as External Relations director
Posted by
Jane Doucet
on January 28, 2019 in
News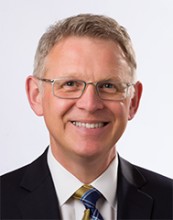 We're happy to welcome Darren Dick, our new director of External Relations, who will join the Schulich School of Law on Feb. 25. For the past four years, Darren has been a senior development officer in Dalhousie's Advancement Office, where his responsibilities included fundraising and donor relations for the Faculty of Management. In his role here, he will work with faculty and staff to develop an external relations strategy that advances the law school's priorities.
Prior to coming to Dalhousie, Darren, who hails from Saint John and has a Bachelor of Commerce degree from Mount Allison University, spent 25 years working as a financial advisor. "I enjoyed working with clients to help them determine their financial goals and then work toward their realization," he says. "A large part of my job was networking, building trusting relationships, and developing strategies to help solve problems. A few years ago I took some time to think about how I could translate those skills into another career." That's when he landed at Dal.
Darren also has a strong background in community service. He is a life-long volunteer with the Canadian Cancer Society and currently serves on the board of The Canadian Partnership Against Cancer. This makes him an ideal fit in an institution whose faculty, alumni, and students live the Weldon Tradition of unselfish public service, with the goal of improving their communities.
In 2016, Darren spent eight months fundraising for our law school in partnership with the Dean's Office. "This position is a homecoming of sorts," he says. "The Schulich School of Law has an outstanding reputation, and I'm very excited to come back and to help strengthen our partnerships with people and organizations both inside and outside of Dalhousie. We have alumni all over the world, and we recruit students from all over the world. I welcome the opportunity to help enhance our global reputation for generations to come."