News
»
Go to news main
In Memoriam: Grand Chief Ben Sylliboy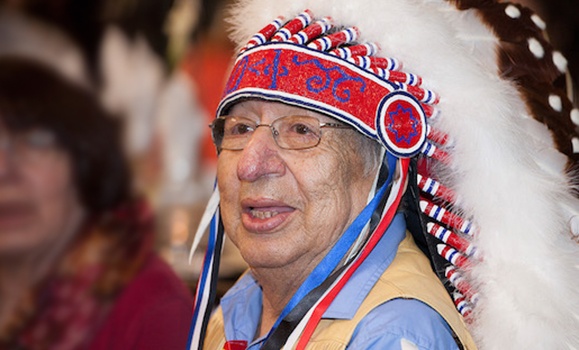 The Indigenous Blacks & Mi'kmaq (IB&M) Initiative and the Schulich School of Law at Dalhousie University community are saddened to learn of the passing of Mi'kmaw Grand Chief Ben Sylliboy of Waycobah First Nation in Cape Breton, who died peacefully of natural causes on November 30, 2017, at the age of 76 at Cape Breton Regional Hospital.
"Our thoughts and prayers are with his family at this time," says IB&M Initiative Director Michelle Williams. "Grand Chief Sylliboy honoured us with an opening prayer at the IB&M Initiative's 25th anniversary, and we greatly appreciated his wisdom, leadership, and generous spirit."
Law school alumnus Jarvis Googoo (LLB '08) provided the following biography of Grand Chief Sylliboy from the Atlantic Policy Congress of First Nation Chiefs as written by alumnus Jaime Battiste (LLB '04) in 2010. Battiste was a legal advisor to Grand Chief Sylliboy and the Mi'kmaq Grand Council and is currently Nova Scotia's Treaty Education Lead:
Humbleness, Compassionate and Understanding are words that describe Grand Chief Benjamin Sylliboy. For the Mi'kmaq these are important qualities for our leaders of the Grand Council. To understand the Leadership of the Mi'kmaq Grand Council or Sante Mawiomi one must understand that there is no hierarchy within the Mi'kmaq Grand Council meaning that with the role of Grand Chief or Keptin comes no great reward or prestige, rather it means a life of service to the Mi'kmaq nation without monetary compensation. Through his lifelong commitment to his community and the Mi'kmaq, Grand Chief Ben Sylliboy has become a respected Elder and Statesmen for the Mi'kmaq community.

Grand Chief Ben Sylliboy was born in the Mi'kmaq Community of Wekoqma in Nova Scotia. Ben grew up in a modest household, as many Mi'kmaq at the time which lived with modest means of supporting themselves. At the age of six Ben was sent to the Indian Residential School in Shubenacadie, where his parents believed he would receive a good education because of the Nuns and Priests who taught there. As many Mi'kmaq who attended the residential schools Ben's time there was filled with hardships but he is thankful that he was only there for four years.

After the Residential school, Grand Chief Sylliboy moved back to his home community and within months was infected with Tuberculosis. This sickness would last 18 months where he was in and out of hospitals. It was when he was finally healthy that Grand Chief Sylliboy attended the Indian Day school for four years until he received a job clear cutting for power lines.

Grand Chief Sylliboy was first selected as keptin by his community in 1968, because of his continued engagement with the community and always being one who was known for being willing to help out community members and the church. A keptin is a life long position of great honour often referred to as a heridetarial or life chief in other parts of Canada. A keptin is a leader within his community and make up members of the Mi'kmaq Grand Council.

At the time the role of the Mi'kmaq Grand Council was very spiritual and involved promoting the community faith and culture. As a Keptin then for the Mi'kmaq Grand Council Grand Chief Sylliboy made it a priority to be there for fellow community members during deaths in the community as well as other spiritual and cultural events. In 1970 he was elected as an Indian Act Band Councilor, which is an elected form of leadership in the Mi'kmaq Reserves. He served nine terms as councilor for his community.

In 1992 he was informed by the Putus of the Grand Council Charlie Herney that then Grand Chief Donald Marshall who was very ill had asked that "Ben take on the role of interim Grand Chief." This came to a surprise to Grand Chief Sylliboy who took on the role as requested but to this day still wonders what qualities that the late Grand Chief saw in him. During the following summer at the feast of St. Anne Grand Chief Sylliboy would be made permanent Grand Chief by the Keptins of the Mi'kmaq Grand Council.

Grand Chief Ben Sylliboy continues to be the grand chief today for the Mi'kmaq Grand Council. Through out the years Ben has seen the Mi'kmaq Grand Council continue to promote the culture and spirituality of the Mi'kmaq. He also has been a part of the renewal of the Mi'kmaq Grand Council role as governing body within the Mi'kmaq that focuses on the recognition and implementation of Aboriginal and Treaty rights. Over the years Grand Chief Sylliboy has consulted with many elders who have continued to guide him, he is a firm believer that Mi'kmaq Leadership as with all leaders need to be educated; however he also states that education of the Mi'kmaq ways must be taught alongside normal education especially the history of the Mi'kmaq.

Grand Chief Sylliboy continues to be a part of meetings with other leaders today and believes unity will help the Mi'kmaq in the future. He holds strong to the vision that the Mi'kmaq should one day determine for themselves rather then government who is a Mi'kmaq and community member. Grand Chief Sylliboy continues his role today with great humility and understanding of the Mi'kmaq people. He continues to live in Wekoqmaq First Nation with his wife and he has 2 grandchildren. Despite ongoing Health problems Grand Chief Sylliboy continues to attend as many functions as he can and continues to be a respected leader within the Mi'kmaq community.