News
»
Go to news main
Get to Know...Schulich Fellow Tamar Meshel
Posted by
Jane Doucet
on September 11, 2017 in
News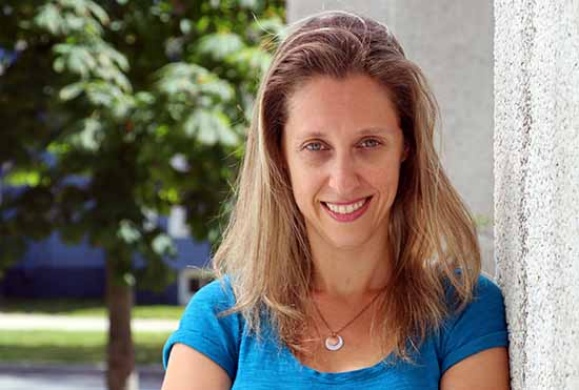 The Schulich School of Law welcomes Tamar Meshel, who has joined our law school as a Schulich Fellow for the 2017–18 academic year. Of Israeli and Polish nationality, Tamar lived in Hong Kong for several years before starting her university studies in Los Angeles in the early 2000s. After completing two years of undergraduate studies she moved to Canada and earned her honours BA degree in political science from the University of Toronto. "While Canada was not initially on my radar, I felt instantly at home here," she says.
Tamar completed her LLM degree at the University of Toronto's Faculty of Law and is currently an SJD candidate there; she plans to defend her PhD thesis during the summer of 2018. She'll be teaching a first-year small group Tort Law class in both semesters.
Why did you decide to become a lawyer?
Law and political science are related fields, and I always wanted to obtain a better understanding of the law. I thought a legal education would be both academically interesting and provide me with an advantage in the job market. I earned my law degree at UBC in Vancouver and then articled and practiced in the international dispute resolution group of an international law firm. I enjoyed it and grew to love Canada as a country – it's welcoming, nonjudgmental, and the best place to live as a foreigner.
Tell us a bit about your academic and legal background.
I have teaching experience in public international law, international commercial arbitration, contract law, tort law, legal research and writing, and Canadian legal studies. Before I started my graduate studies, I worked as deputy counsel at the International Court of Arbitration in Paris and as legal advisor to the Jerusalem Arbitration Center in Israel and Palestine. I was also a Graduate Fellow at The Carter Center in Atlanta, a Scholarship Student in Residence at the Centre for International Governance Innovation in Waterloo, and a Research Fellow at the Max Planck Institute for Procedural Law in Luxembourg.
What appealed to you about doing an academic teaching fellowship at the Schulich School of Law?
I was excited about coming to Schulich Law because of its collegial environment, internationally renowned faculty, diverse student body, and dedication to both teaching and research excellence. And of course the beautiful surroundings in Halifax and Nova Scotia! Also, since my two main areas of research are international water law and conflict resolution, the Marine & Environmental Law Institute was a main attraction for me coming here. My PhD combines these two areas and focuses on the resolution of transboundary freshwater disputes. I'm very excited to be working alongside some of the most renowned experts in environmental law, marine law, and law of the sea. I'm looking forward to contributing to the MELAW and the law school in general in my areas of expertise.
What about the teaching part of the fellowship?
I love teaching – I get easily excited about my fields of interest and I enjoy sharing my enthusiasm with my students. I think teaching is a privilege and is both challenging and great fun. I like to get students to learn about the law by debating, arguing, disagreeing, and agreeing to disagree.
Torts is a particularly fun first-year class; it mostly consists of everyday life stories that students can relate to and that show them that law is everywhere and affects everyone's life, sometimes in unexpected ways. My classes are less lecture-based and more debate-oriented. I find that law students tend to be a very engaged bunch; they ask smart questions and I learn a lot from them. Doing a PhD can be an isolated experience, so teaching is a nice way to balance individual research and working with others.
You've moved a lot. Why the wanderlust?
It's true! After Hong Kong, Los Angeles, Toronto and Vancouver, I lived in Paris, Toronto again, and Luxembourg, and now Halifax. I believe that travelling affords you a type of smarts that you don't get from books. In my case, I prefer to live in places for extended periods of time rather than just vacation in them. When you live somewhere, you have to integrate into that place's daily life, interact with local people, and assimilate into the community, which I like. I must say that I love Halifax both because of its nature and culture and since it provides an easy gateway to Europe, which is a major hub of international law.
What's happening this fall?
I'm co-organizing a conference at the end of September at the Max Plank Institute in Luxembourg, where I was a Research Fellow. It's on international water law and law of the sea and has been in the making for over a year. Professor David VanderZwaag is one of the international experts who will be speaking.