School of Social Work Indigenous Statement

Mourning the Children
At the School of Social Work we share in the grief and join with the country in mourning the beloved children recently discovered buried in unmarked  graves at the site of the Kamloops Residential School. 
We stand with Indigenous colleagues, students, and communities through this horrendous time. Our profession must continue to grapple with the complexities of our role in the harms of residential schools and contemporary child welfare practices with Indigenous peoples. As a School, we are committed to the work necessary to educate social workers to be able to work in relationship with Indigenous peoples and build a profession that is accountable to our historic and contemporary wrongdoing.  
We continue to take guidance from the advocacy of the First Nations Caring Society and their calls to concrete action that we can advance as citizens and as representatives of the profession (fncaringsociety.com). 
Why Choose Social Work?
Gain knowledge and experience in how to help individuals, families and communities, and promote policy to provide a better environment in which to live. The School of Social Work's vision is a commitment to building a socially just society, defined as one that upholds and validates the values of equality, diversity, inclusiveness, democracy and concern for human welfare. We manifest and advance curricula, scholarship and school culture that are congruent with those values. Learn more about the profession of Social Work.
Read more about some of Social Work's graduands and the important work they have been doing.
Contact
The School of Social Work is located on the third floor of the Mona Campbell Building which is situated on the corner of Coburg Road and LeMarchant Street.


Mailing address:

School of Social Work

Dalhousie University

1459 LeMarchant Street, Suite 3201
PO Box 15000

Halifax, NS  B3H 4R2
Canada
Courier address:

School of Social Work

Dalhousie University

1459 LeMarchant Street, Suite 3201
Halifax, NS  B3H 4R2
Canada
Main Office Telephone: 902-494-3760

Fax: (902) 494-6709

E-mail for general inquiries: social.work@dal.ca


School of Social Work Anti-Black Racism Statement

The Dalhousie University School of Social Work recognizes the historical and contemporary role social work, as a profession and as an educational entity, has played in the oppression and marginalization of people of African Descent. We stand against anti-Black racism in all its manifestations. We acknowledge and take responsibility for the intergenerational trauma and institutional racism we have participated in and perpetuated, such as the removal and institutionalization of African Nova Scotian children. We seek to build and repair relationships with African Nova Scotia communities. As a way to address these harms, as a School we are committed to ongoing processes of decolonization, reparations and anti-racism work aimed at redressing burdens of colonialisms and slavery. Our commitment also means denouncing police, state, and structural violence toward people of African Descent and aligning with and supporting the Black Lives Matter movement.
Download the statement.
News
On 24 February 2022, the Government of Russia, under President Vladimir Putin, launched military action against Ukraine. Over the last three weeks, this action, which aims to destroy the Ukrainian nation and punish its peoples for NATO's expansionist goals in the region, has escalated into a violent war.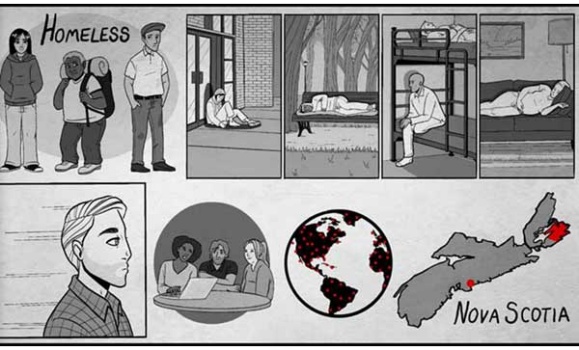 An animated short exploring the homelessness sector in two Nova Scotian communities during the early phases of COVID.