Book sheds light on NS nursing history
»
Go to news main
Book sheds light on NS nursing history
Posted by
Dawn Morrison
on August 2, 2018 in
News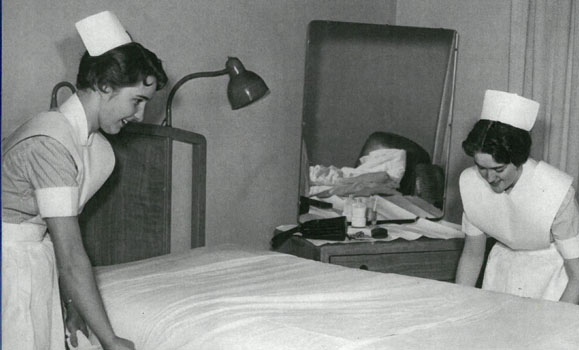 A new book by Dr. Barbara Keddy is shedding light on the historic struggles of small-town Nova Scotia student nurses. The Lamp Was Heavy, Nova Scotia Nurses-in-Training in the 1950s draws on the experiences of Dr. Keddy, a Professor Emerita in the School of Nursing, and those of 14 other women who were student nurses in small-town hospitals across the province decades ago.
It's a labour of love for Dr. Keddy, who is donating all proceeds from the book to support the Sara Corning Society in Yarmouth. Originally from Yarmouth County, Sara Corning was honoured as one of Canada's 100 outstanding Canadians for her humanitarian work, including her efforts to help rescue and care for thousands of orphans during the Armenian and Greek genocides.
On Friday, August 3, there will be an event in Yarmouth hosted by the Sara Corning Society announcing the creation of a statue in Ms. Corning's honour. The statue is being created in Armenia where it will eventually be shipped to Yarmouth for unveiling at a ceremony in the early fall of 2019. Proceeds from Dr. Keddy's book will be used to create the pedestal for the statue.
Dr. Keddy will speak at the event, which will also feature Mr. Raffi Sarkissian, principal of A.R.S. Armenian School, and the founder of the Sara Corning Center for Genocide Education in Toronto. He will be the keynote speaker. The event will be held at the Yarmouth County Museum at 22 Collins St. on Aug. 3rd at 7:30 pm and all are welcome to attend.
The Lamp Was Heavy, Nova Scotia Nurses-in-Training in the 1950s is available from Chapters/Indigo/Coles, the publisher, GlenMargaret Publishing and at Book Mark on Spring Garden Road.
To fiind out more, visit the book's Facebook group.