News
»
Go to news main
Student‑led Crossroads conference returns in person in March
Posted by
Josey Houle, Dal Health freelance writer
on January 25, 2023 in
Events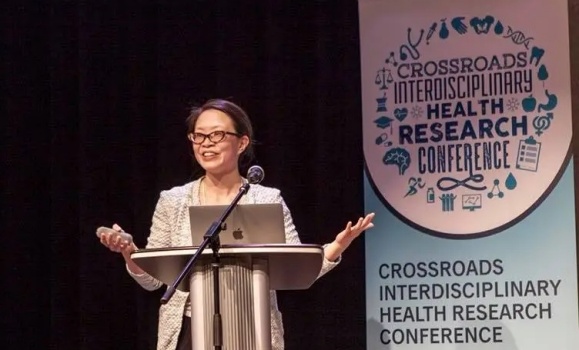 How can we adopt new perspectives? How can we find innovative approaches to existing or emerging public-health challenges and systemic barriers to achieving health?
These questions lie at the heart of preparations for the 2023 Crossroads Interdisciplinary Health Research Conference, taking place on March 10 and 11 at Halifax Central Library and Dal's Collaborative Health Education Building. Led by co-chairs Joshua Yusuf and Michaela Title, the planning committee consists of 11 Dal students from the School of Health and Human Performance (HAHP) and the PhD in Health program.
"We're really excited to bring the conference back in person after the pandemic-related hiatus," says Title. "Students need those in-person experiential opportunities of learning how to speak publicly and share their research."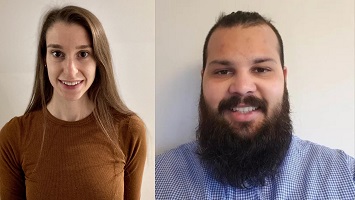 Co-chairs Michaela Title and Joshua Yusuf (Photo: provided)
Aiming to foster collaboration between health disciplines, Crossroads was created in the early 2000s and hosted by the HAHP's Graduate Student Society. The goal was for undergraduate, graduate and post-graduate students to present their own health research to their peers and various professionals in an adjudicated environment. Since then, its outreach has expanded beyond Nova Scotia to across the country and internationally.
Highlighting research and change
This year's theme is (Re)Picturing Health and Moving from Research to Change. The conference will feature health-oriented keynote speeches, panel discussions, workshops and mini courses. Panel topics include food insecurity, advancements on health delivery (health digitization and health-delivery technology), and equity and inclusion.
While it's too early to determine this year's number of attendees, Yusuf and Title are  excited to have received over 100 abstract submissions to date. They have come from every province and represent 22 different post-secondary institutions, nine of which are U15 schools. From coast to coast, universities have been promoting the conference to their students and faculty. Such institutions include the University of British Columbia, McGill and Carleton.
Across the conference's history, keynote speakers have inspired students to continue embracing innovative and collaborative approaches to health research. This year's keynote speakers will include Dr. Sanja Stanojevic, Dalhousie assistant professor in the Department of Community Health and Epidemiology, and Canadian Senator Wanda Thomas Bernard, PhD and full professor of social work at Dal.
Dr. Stanojevic's research topics include biostatistics and respiratory physiology. She is currently using a novel breathing test to determine whether vaping causes lung damage. Senator Thomas Bernard, a trailblazer in human rights research, was appointed to the Order of Canada in 2005.
Two new social events
Crossroads 2023 will feature two new social events—on March 10, a drag trivia and social event at the Grawood sponsored by DalOUT, and on March 11, an awards banquet at the Lord Nelson Hotel sponsored by the Faculty of Health. Title and Yusuf are taking care to make sure the events follow all of Dal's pandemic restrictions and guidelines. "We're focusing on bringing back that in-person experience that people really need for their psychosocial health," says Title.
Within Dal, conference sponsors include the Faculty of Health, the Office of the Vice-President Research & Innovation, the School of Health Administration, the School of Health and Human Performance, the Centre for Transformative Nursing and Health Research (CTNHR) and the Faculty of Graduate Studies. The Healthy Populations Institute provides the organizational backbone for the conference through the provision of physical space and institutional memory storage. Local businesses, including Venus Envy and Antojo, have donated prizes for the social event.
Smoke-Free Nova Scotia has offered to cover registration fees for students presenting on tobacco and vaping. Research Nova Scotia has also been confirmed as a sponsor for the conference. "Several schools and faculties are invested in, and excited for, Crossroads," says Title. "It's great to have that support."