Mathew
Gagné
Assistant Professor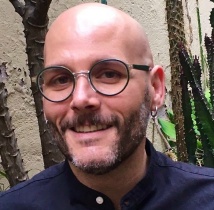 Email:
m.gagne@dal.ca
Mailing Address:
Rm. 3119, McCain Building, 6135 University Avenue PO Box 15000, Halifax, Nova Scotia, Canada B3H 4R2

Research Topics:
Queerness and Sexuality
Sex and Technology
Digital Media
Design and worlding
Middle East
Education
·        BA, University of Winnipeg
·        MA, PhD, University of Toronto
Research Interests
Broadly speaking, my research interests are in how we connect differently in the digital age, and the effects of that difference on care, intimacy, ethics, meaning, desire, and even how we construct what the kinds of social lives and political conditions that are possible in the information age. Focusing on the minutia of our intimate lives, I aim to tell stories about the worlds that attachment and intimacy create, and the politics of these worlds in the form of emerging norms, ideals, and symbols for how we connect in the digital age. My SSHRC-funded project, entitled Gay Sex and Digital Media in Beirut: The Erotic Life of Information, explores the effects of sex apps like Grindr and Scruff within the intimate lives of queer men in Beirut. I show how digital media shifted he ideals and debates queer men had about what is sexually and intimately possible for queerness in Lebanon, particularly leading to new ideas about the political and social possibilities of sex as a route to happiness, fulfilment, and self-sovereignty over their intimate and social lives. Central is how queer men claimed new kinds of control over their intimate lives that rendered gay sex centre to everyday happiness and fulfilment. In contrast to anthropological theorizations of power, agency, and sovereignty, the control men claimed for themselves is not about exerting power over others or denying the interpersonal dependencies of intimacy but are about making happen those intimate connections and encounter they want most from multiple conversations and connections happening through sex apps.
Currently, I'm developing new projects that continue to pursue questions of intimacy, chemistry, and connection among queer people via technology. I'm interested in exploring the relationship between tech design and sexual affects, particularly within the tech industry. I seek to understand how the designers of technologies conceive of and design for sexual affects.
Selected Publications
Forthcoming     Gagné, Mathew. "Methodological Reflections on Studying Gay Sex in Beirut." In Queer Data, Patrick Keilty (ed.). University of Washington Press.
2022                Gagné, Mathew. "Gay Sex Apps and Heteronormative Masculinity in Beirut." In Sex in the Middle East and North Africa, L.L. Wynn and Angel M. Foster (eds.). Vanderbilt University Press.
2019                Gagné, Mathew. "Studying Gay Sex in Beirut: The Lascivious Suture of Home/Field." In Home: Ethnographic Encounters, Johannes Lenhard and Farhan Samanani (eds). Bloomsbury.
2017                Gagné, Mathew. "Toronto's Geography of Gay Sex in the Digital Age" In Any Other Way: How Toronto Got Queer, Stephanie Chambers, Jane Farrow, Maureen Fitzgerald, Ed Jackson, John Lorinc, Tim McCaskell, Rebecka Sheffield, Tatum Taylor and Rahim Thawer (eds). Coach House Books.
2015                Gagné, Mathew. "Nadir's Intimate Biography: Fantasy, Gay Hook-Up Apps, and Intimate Productions in Beirut." Middle East Journal of Culture and Communications, 9(2): 165-181.
2012                Gagné, Mathew. "Queer Beirut Online: The Participation of Men in GayRomeo.com." Journal of Middle East Women's Studies, Special edition: Queering Middle East Cyberspace, 8(3): 113-137.