Lindsay

DuBois

,

Associate Dean Academic
Associate Professor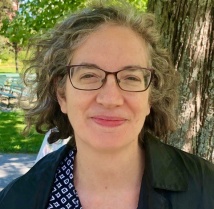 Email:
lindsay.dubois@dal.ca
Phone:
902-494-1254
Mailing Address:
Room 3029, McCain Building, 6135 University Avenue
PO Box 15000, Halifax, Nova Scotia, Canada B3H 4R2

Research Topics:
Economy, work and development
Social justice and inequality
Class
Memory
Political anthropology
Urban studies
Latin America
Cross appointment
International Development Studies

Education
BA, McGill University
MA, PhD, New School for Social Research
Research interests
A social anthropologist, Lindsay DuBois conducts research on the politics of culture and the relationship between culture, history and political economy. She considers these questions with respect to particular and concrete experiences of individuals and social groups in Argentina. Dr. DuBois is currently writing about social welfare policies which aim to reduce child poverty and child labour in Argentina. Her fieldwork in Mar del Plata Argentina examined material and non-material effects of the Conditional Cash Transfer Program and related policies.  
Previously, she carried out an oral history project with radical activist pensioners in Buenos Aires, asking questions about where activism comes from and what sustains it over time.  Before that, Dr. DuBois conducted ethnographic fieldwork on the politics of the past in a working-class housing project in La Matanza, a suburb of Buenos Aires. Addressing the period from 1972 to 1992, this work examined the lasting impact of political repression and neoliberal restructuring on the lives of working-class Argentines. 
Selected publications
(2014) "Memory and Narrative," pp. 347-363 in Donald M. Nonini (ed.) The Companion to Urban Anthropology. Wiley-Blackwell. 

(2014) "The Romance of reminiscence: Problems posed in life histories with activist pensioners in Argentina," pp. 236-249 in S. High, E. Little, and T. R. Duong (eds.) Remembering Mass Violence: Oral History, New Media and Performance. Toronto: University of Toronto Press.

(2013) Activist Pensioners, a Contradiction in Terms? Argentina's Jubilados. Anthropology & Aging Quarterly 34(2): 170-183.
(2005) The Politics of the Past in an Argentine Working-Class Neighbourhood. Toronto: University of Toronto Press. (Published in Spanish as Barrio Obrero. Etnografía y Memoria. La Plata, Argentina: Ediciones al Margen.)  
(1999) "Valiant ladies: Gendered dispositions in Argentine working class memories." Social Analysis. 43(3): 6-25.