Laura
Eramian
Associate Professor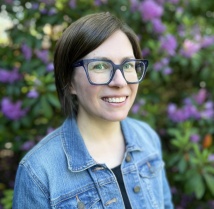 Email:
leramian@dal.ca
Phone:
902-494-2523
Mailing Address:
Room 3120, McCain Building, 6135 University Avenue
PO Box 15000, Halifax, Nova Scotia, Canada B3H 4R2

Research Topics:
Economy, work and development
Social justice and inequality
Ethnicity
Personhood
Political anthropology
Personal relationships
Violence and genocide
Africa
Education
BA Hons, MA, The University of Western Ontario
PhD, York University
Research interests

Laura Eramian is a social anthropologist whose work focuses on personhood and everyday relationships of patronage, kinship, friendship, and neighbourliness in situations of violent conflict. She investigates these issues through the everyday social lives of urban dwellers in small town Rwanda. Key questions in her research deal with how personhood and ethnic boundaries are forged in the predicaments of Rwanda's "post-conflict" moment, how people configure belonging in their social worlds in the absence of key relations lost in the 1994 genocide, and how post-genocide social formations provide insight into the broader quest for modern nationhood in Rwanda.
Dr. Eramian is publishing her doctoral work in a series of journal articles and a book manuscript. Her current and future research projects focus 1) on the political economy and social life of Rwanda's post-genocide "reconciliation industry" and 2) on urban Rwandans' unsuccessful entrepreneurial ventures and what those failures mean to them in the context of state and non-state post-genocide development agendas. Dr. Eramian has also embarked on a new collaborative research project on troubled friendships among Halifax residents. The project aims to understand the effects of failed friendships on people's lives, senses of self, and social belonging.
Selected publications