Study Abroad: Advanced Seminar in Baroque Culture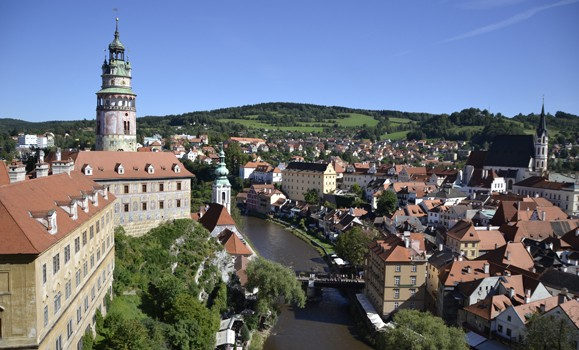 Advanced Seminar in Baroque Culture: (HIST 4162/THEA 4735/MUSC 4360)
In June each year, this six credit hour summer course offered by Dalhousie's Fountain School of Performing Arts and the University of King's College gives students in Theatre, History, Music and other related disciplines a firsthand view of the splendour of European Baroque civilization.The class is taught in the beautiful town of Český Krumlov, located in Southern Bohemia in the Czech Republic. Český Krumlov is a UNESCO World Heritage site: a town largely intact from the seventeenth century. The State Castle of Český Krumlov houses one of only two surviving fully functional Baroque theatres in the world.  It also owns a substantial collection of historical costumes.
Taught on site at the State Castle, the class involves a combination of historical and cultural research in one or more of the following fields: seventeenth- and eighteenth-century theatre and opera; historical costume; the court life of seventeenth- and eighteenth-century Europe; and the history of Central Europe with its Italian and French influences. Familiarity with foreign languages is not required. Excursions to Prague and local sites of interest will be arranged.
Dalhousie/King's reserves the right to cancel the course, if enrolment is below 20 students.
The next class is scheduled for May 31-July 1, 2024.

For more information please contact Marie: marie.raynard@dal.ca