Dr. Jennifer Bain
What do you think is the best part of being a musicologist?  That's hard to answer. Looking at and handling old books is definitely near the top of the list. I love interacting with students and colleagues at Dalhousie and at conferences, but I also love spending 12 hours in my own head in my study at home completely absorbed in writing or working with materials for a research paper.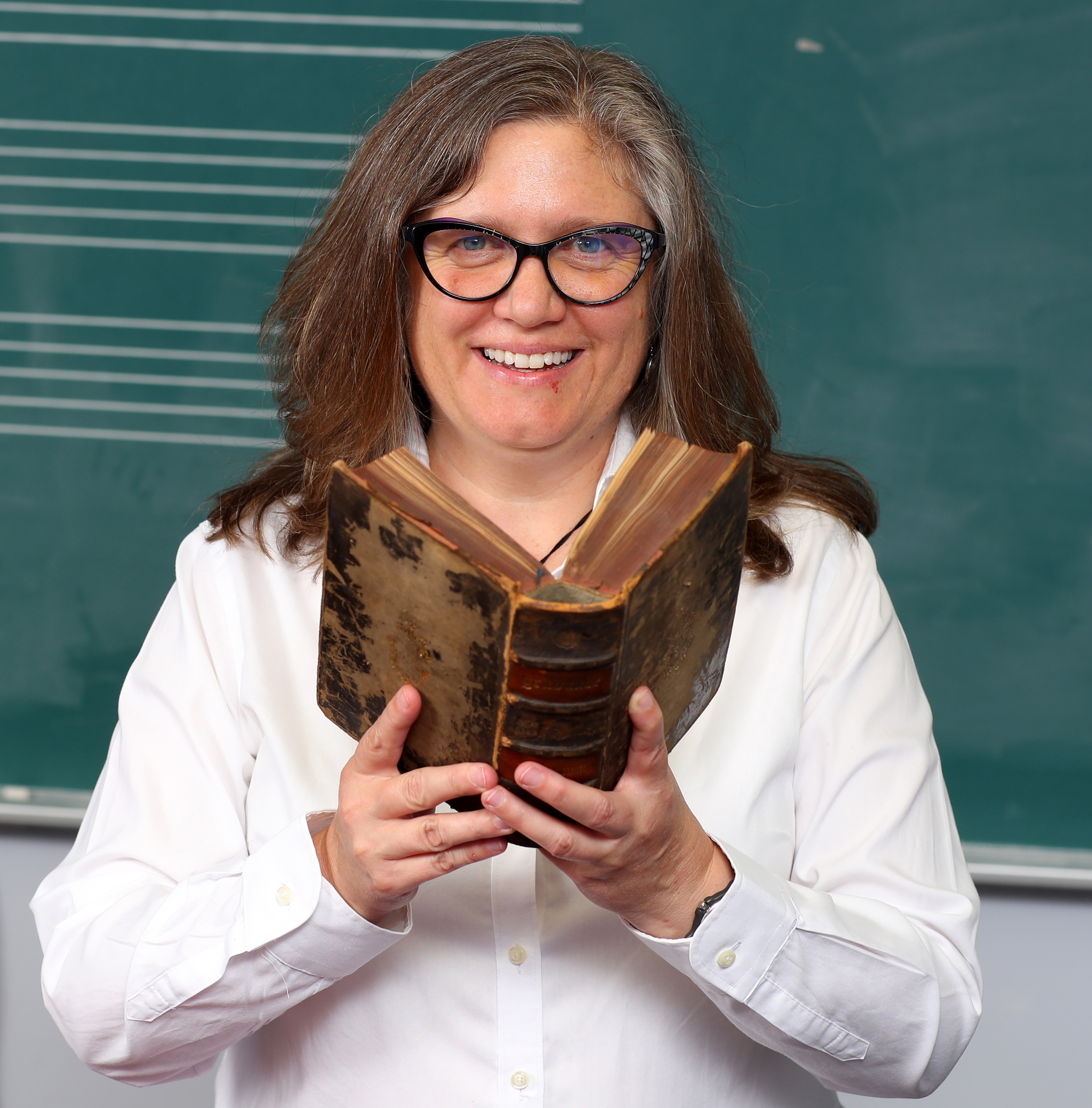 What areas / topics of research do you specialize in?  I work on medieval music, on the reception of medieval music, and on developing digital tools for plainchant research.
What do you like best about living in the City of Halifax?  Halifax is such a walk-able place and there is so much local food at the markets and in restaurants and cafés around the city. And there is no shortage of things to do: great festivals and concerts and hanging out at the Central Library or at the gorgeous harbourfront. I also love all of the old wooden houses in my neighbourhood and the sometimes outrageous colours people choose to paint them.
What advice can you offer any interested musicology students?  Keep an open mind and challenge yourself to develop expertise in new areas. I didn't go into grad school with much experience in medieval music and had not planned to go that route, but I caught the bug in the first semester of my MA. I have no regrets.
Also, read widely, both fiction and non-fiction, go to concerts, go to museums, and learn languages.
What projects are you currently working on?  I have a few balls up in the air. I'm editing the Cambridge Companion to Hildegard of Bingen, I'm directing a large team project called the Digital Analysis of Chant Transmission, and I'm working with a couple of people including (paid) graduate research assistants on a project contextualizing the music of Hildegard of Bingen.
Which publication of yours would you describe as your favourite?  That's easy. I published an article last year on the status of a medieval manuscript during and after WWII, called "History of a Book: Hildegard of Bingen's 'Riesencodex' and World War II," published in Plainsong and Medieval Music. The research was so fascinating and led me down many rabbit holes. It's the story of this one important manuscript and how it ended up on the wrong side of the border at the beginning of the Cold War. It's a gripping tale and it's my dream that some day a director like Patricia Rozema will turn it into a movie. The article has just been translated into German and will appear in a journal in Germany later this year, which is also really exciting.
Where can we find/read some of your work?  You can sample a few pages of my book, Hildegard of Bingen and Musical Reception, on Google Books (and if you like it, you can buy it - it's now in paperback!). A lot of people find an early article of mine called, "Hildegard on 34th Street: Chant in the Marketplace," because it appears in one of the first online musicology journals: Echo: a music-centered journal. In fact, our very own Jacqueline Warwick was one of the founders of the journal when she was a graduate student at UCLA and she encouraged me to submit an article there. The journal wanted to make the most of what digital editions could offer so there's lots of artwork and sound clips.
Any final thoughts?  It's kind of weird that I didn't mention Guillaume de Machaut in any of the above, since much of my early work was on Machaut. I still think he's great, but I've kind of moved on.
I also didn't mention the Salzinnes Antiphonal, which is a manuscript owned by Saint Mary's University in Halifax. If somebody emails you out of the blue and says, "Hey, I've got a manuscript. Would you like to look at it?", always say yes. Answering that one email has led me to fifteen years of research and collaboration with an art historian and curator (Judy Dietz), the mounting of several concerts (including bringing the early music vocal ensemble Anonymous 4 to Halifax), involvement in digital team projects (cantus.simssa.ca), and the opportunity to develop the musical section of a major exhibit at the Art Gallery of Nova Scotia, which will be remounted in Namur, Belgium in the fall of 2020.
APPLY TODAY!