Ajay
Parasram
Undergraduate Faculty Advisor, Assistant Professor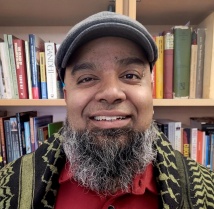 Email:
parasram@dal.ca
Phone:
902-494-2167
Fax:
902-494-2105
Mailing Address:
Department of International Development Studies
Marion McCain Building
6135 University Ave.
Dalhousie University
PO Box 15000
Halifax, NS, Canada
B3H 4R2

Office location:
Marion McCain Building 3043

Research Topics:
Colonial, Postcolonial, and Decolonial studies
modern/colonial South Asia
Global Development and political economy
global history and international relations
The state
Political ontology and pluriversality
Education:
BA (Dalhousie)
MA (Carleton University)
PhD (Carleton University)
Select Publications
2016.     "Orbits of Influence: The Sino-Indian Waltz in South/Southeast Asian New Regionalism," in Huhua Cao and Jeremy Paltiel (eds), Facing China as a New Global Superpower: Domestic and International Dynamics from a Multidisciplinary Angle. Beijing: Springer Publishing.
2014. "Postcolonial Territory and the Coloniality of the State," Caribbean Journal of International Relations & Diplomacy 2/4: 51-79.
2012. "Erasing Tamil Eelam: De/Re Territorialisation in the Global War on Terror," Geopolitics 17/4:  902-925.
2010. "Us & Them: The Plumbing and Poetry of Citizenship Policy and the Canadians Abroad," Asia Pacific Foundation. Project Paper Series 10-03, Vancouver.
2009. "Calling in the Neighbours: Indian Views on Regionalizing Afghanistan Strategies," Asia Pacific Foundation. Canada-Asia Agenda series, Vancouver.
Select Public Engagement: Essays, Blogposts, & Op Eds
2016.     "We Nah' Want No Devil Philosophy" Symposium on The Black Pacific: Anti-Colonial Struggles and Oceanic Connections by Robbie Shilliam. The Disorder of Things: For The Relentless Criticism of All Existing Conditions. <http://goo.gl/vFgl3Q >. Feb. 1
2015.     "#Refugees Welcome Ottawa" Migration & Diaspora Studies Blog <https://goo.gl/4MfNOL > Dec. 4
2015.     "Harper's Canadian Pageant: PM's Anti-Niqab Tantrum is thinly veiled racism," The Leveller 7/5:12. < http://goo.gl/aorQop>
2013.     "Humanitarianism for Humans: Relocate Syrian Refugees to the West," The Leveller, 6/2:13. <www.leveller.ca>
2013. "Race, Class, and Gender at the Margins: Exploring My Name is Khan," Jaggery: A Desilit Arts and Literature Journal. 1/1. <http://goo.gl/3LXkLX>.
2011.     "Barack Obama Is Not Lord Krishna: A Response to a Hindu Soldier in Afghanistan," Canadian Hindu Link 3/4:18.
2011.     "Canada's Red Herring Refugee Laws," Ground Level 1/1: 30-33.
2010.     With Don DeVoretz, "A Case for a Ministry of Canadians Abroad," Embassy, March 10. <http://goo.gl/0vWFLg>.
2010.     With Andrew Crosby, "Securing Haiti: Soldiers vs. Doctors in Post-Earthquake Haiti," The Dominion Volume 67:17. <http://www.dominionpaper.ca/articles/3211>.
2009.     With Randall Hansen and Ashok Athavale, "Multiculturalism in Canada: Are We Getting Along?" Canadian Broadcasting Corporation. March 2. <http://goo.gl/qAf7xI>.
2009.     "On Being Mistaken for Being White," Canadian Broadcasting Corporation. February 23. < http://goo.gl/X8t5Qm>
Significant Scholarships and Awards
Kanta Marwah Research Fellowship in Peace and Security, Canada-India Centre for Excellence, 2016
Ontario Graduate Scholarship, Government of Ontario, 2011; 2014 – 2016
Beverlee Bell Scholarship in Human Rights, 2013
Doctoral Fellowship, Social Science & Humanities Research Council, 2012 – 2014
Post Graduate Research Fellowship, Asia Pacific Foundation of Canada, 2008 – 2009