Educational Resources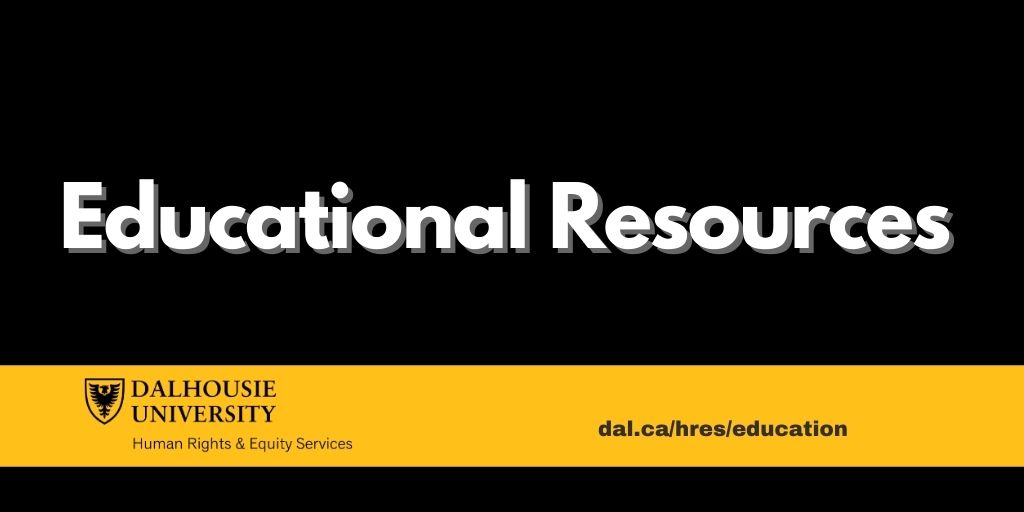 Educational Resource List
Anti-Black Racism
Books
Black Canadian Authors:
Burnley "Rocky" Jones Revolutionary by Burnley "Rocky" Jones & James St. G. Walker

There's Something in the Water by Ingrid Waldron

Live from the Afrikan Resistance by El Jones

The Hanging of Angelique by Afua Cooper

Black Like Who? By Rinaldo Walcott

The Skin We're In By Desmond Cole

Policing Black Lives by Robyn Maynard

Riot by Andrew Moodie

Bluesprint by Wayde Compton

Dear Pholomena by Mugabi Byenkya

Black Canadians by Joseph Mensah

Sister to Courage by Wanda Robson

Ma-Ka Diasporic Juks by Debbie Douglas, Courtnay Mcfarlane, Makeda Silvera, Douglas Stewart (eds.)

Coloured Zion by DonnaByard Sealey

Theorizing Empowerment by Njoki Nathani Wane and Notisha Massaquoi

Black Life: Post BLM and the Struggle for Freedom by Rinaldo Walcott and Idil Abdillahi

Until We are Free by Rodney Diverlus, Sandy Hudson, Syrus Marcus Ware (eds.)

Hood Feminism by Mikki endall
Abolitionist Books
"Are Prisons Obsolete?" By Angela Y. Davis

"Assata: An Autobiography" by Assata Shakur

"Carceral Capitalism" by Jackie Wang

"Blood in My Eye" by George L. Jackson

"Captive Genders: Trans Embodiment and the Prison Industrial Complex" edited by Nat Smith, Eric A. Stanley

"The End of Policing" by Alex Vitale

"Freedom is a Constant Struggle" by Angela Y. Davis

"Beyond Survival" edited by Ejeris Dixon, Leah Lakshmi Piepzna-Samarasinha

"Fumbling Towards Repair" by Mariame Kaba, Shira Hassan

"As Black as Resistance" by Zoe Samudzi, William C. Anderson

Abolition Now! 10 Years of Strategy and Struggle Against the Prison Industrial Complex

By Critical Resistance

Black Marxist Books
"Black Marxism: The Making of the Black Radical Tradition" by Cedric J. Robinson
African Heritage Month Books
Poetry
She Tries Her Tongue, Her Silence Softly Breaks by M. NourbeSe Philip, 2015

Maya Angelou: The Complete Poetry by Maya Angelou, 2015

The Collected Poems of Langston Hughes by Langston Hughes, 1995
Memoirs
Invisible Shadows: A Black Woman's Life in Nova Scotia by Verna Thomas, 2002

Twelve Years a Slave by Solomon Northup, 1853; 2013 edition
Historical Fiction
Africville by Shauntay Grant, illustrated by Eva Campbell, 2018

Problematic Books:
"White Fragility" by Robin Dangelo
Why it's problematic: https://www.theatlantic.com/ideas/archive/2020/07/dehumanizing-condescension-white-fragility/614146/

Films/Documentaries
Films that are problematic, and that follow 'white saviour' narratives:
The Help (2011) dir. Tate Taylor
Green Book (2018) dir. Peter Farrelly
Queer Black Films:
Portrait of Jason (1967) dir. Shirley Clarke
Looking for Langston (1989) dir. Isaac Julien
Tongues United (1989) dir. Marlon Riggs
Paris is Burning (1990) dir. Jennie Livingston
Young Soul Rebels (1991) dir. Isaac Julien
Black is... Black Ain't (1995) dir. Marlon Riggs
To Wong Foo, Thanks for Everything! Julie Newmar (1995) dir. Douglas Carter Beane
The Watermelon Woman (1996) dir. Cheryl Dunye
Chocolate Babies (1997) dir. Stephen Winter
Venus Boyz 2002) dir. Gabrielle Baur
Brother to Brother (2003) dir. Rodney Evans
Still Black: A Portrait of Black Trans men (2008) dir. Kortney Ryan Ziegler
Pariah (2011) dir. Dees Rees
Blackbird (2014) dir. Patrik-Ian Polk
Dope (2015) dir. Rick Famuyiwa
Tangerine (2015) dir. Sean Baker
Naz & Malik (2015) dir. Jay Dockendorf
Moonlight (2016) dir. Barry Jenkins
Rafiki (2018) dir. Wanuri Kakiu
Disclosure: Trans Lives on Screen (2020) dir. Sam Feder
Documentaries:
First Australians: The Untold Story of Australia
I am not your Negro
The Tall Man
3 1/2 Minutes. Ten Bullets
The House I Live In
We are the Giant
Putaparri and the Rainmakers
Quest
Do Not Resist
Westwind: Djalu's Legacy

Academic Articles
"'Whiteness as Property" by Cheryl Harris
"The Racial Contract" by Charles Mills
"The Lived Experience of the Black Man" by Frantz Fanon

Social Media
@Laylafsaad
@rachel.cargle
@AustinChanning

Organizations
Dalhousie Student Societies
African Nova Scotian Student Association (ANSSA)
Black United Student Association (BUSA)
Dalhousie African Students Association (DASA)
Dalhousie Black, Indigenous and People of Colour Caucus (BIPOCUS)
Dalhousie Black Law Students' Society (DBLSA)
Dalhousie Caribbean Connections
Dalhousie Resources
Nova Scotia Resources
North American Organizations
Critical Resistance http://criticalresistance.org/resources/



Gender and Sexuality
Academic Articles
"Demarginalizing the Intersection of Race and Sex: A Black Feminist Critique of Antidiscrimination
Doctrine, Feminist Theory and Antiracist Politics" by Kimberle Crenshaw

Social Media
Kimberlé Crenshaw @sandylocks

Sexualized Violence
Books
I Still Believe Anita Hill: Three Generations Discuss the Legacy of Speaking the Truth to Power by Amy Richards and Cynthia Greenberg
Race-ing Justice, En-gendering Power: Essays on Anita Hill, Clarence Thomas, and the Construction of Social Reality by Toni Morrison
Speaking Truth to Power by Anita Hill
Not That Bad: Dispatches from Rape Culture by Roxane Gay
Yes Means Yes!: Visions of Female Sexual Power and a World Without Rape by Jaclyn Friedman and Jessica Valenti
Asking for It: The Alarming Rise of Rape Culture—and What We Can Do About It by Kate Harding
I Never Told Anyone: Writings by Women Survivors of Child Sexual Abuse by Ellen Bass
I Never Called It Rape: The Ms. Report on Recognizing, Fighting, and Surviving Date and Acquaintance Rape by Robin Warshaw, Gloria Steinem, Salamishah Tillet
Dear Sister: Letters from Survivors of Sexual Violence by Lisa Factora-Borchers and Aishah Shahidah Simmons
Ask: Building Consent Culture by Kitty Stryker, Carol Queen and Laurie Penny
Learning Good Consent: On Healthy Relationships and Survivor Support by Cindy Crabb
Consent on Campus: A Manifesto by Donna Freitas
Written on the Body: Letters from Trans and Non-Binary Survivors of Sexual Assault and Domestic Violence by Lexie Bean, Dean Spade and Nyala Moon
Academic Articles
"The Sociology of Gaslighting" by Paige L. Sweet
"NORMALIZING SEXUAL VIOLENCE: Young Women Account for Harassment and Abuse" by Heather r. Hlavka
"Sexual Assault on Campus: A Multilevel, Integrative Approach to Party Rape" by
Elizabeth a. Armstrong, Laura Hamilton, and Brian Sweeney.
"Government-mandated institutional betrayal" by Alec M. Smidt & Jennifer J. Freyd
"Mapping the Margins: Intersectionality, Identity Politics, and Violence Against Women of Color" by Kimberlé Williams Crenshaw

Films/Documentaries
Unbelievable (2019) dir. Susannah Grant and Michael Chabon. Netflix Series
Promising Young Woman (2020)