Student Life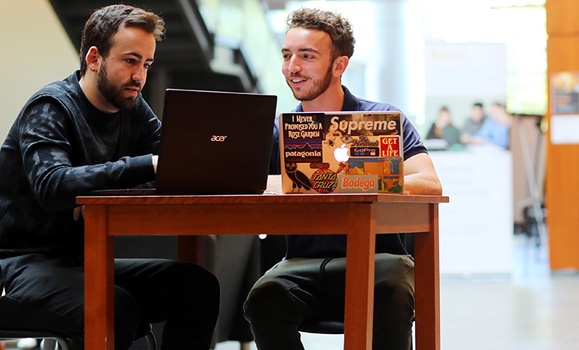 Commerce students Sam Brown and Josh Dias know what it's like to lose your way a bit at university. But thanks to the Refining Your Learning Skills for Academically Dismissed Students program, they're back in class with a renewed focus. Read more.
Featured News

As Mi'kmaq History Month gets underway, we sit down with Aaron Prosper, Dalhousie's first Indigenous student union president. It's a role he's been preparing for his entire life.

Thursday, October 4, 2018
First-year students Kayla Thomson of Kentville, N.S. and Anna Minarik of Edmonton are this year's Dal recipients of the Schulich Leader scholarship — one of the top awards of its kind in Canada.

Monday, September 24, 2018
Hayam Mahmoud-Ahmed is helping develop a device to retrain muscles in individuals who've experienced a stroke. It's not what you might expect from a Neuroscience and Computer Science student — but it makes perfect sense as part of her journey into entrepreneurship.
Archives - Student Life