This article is part of a series focusing on the grads of the Dalhousie Class of 2023. Spring Convocation runs from May 29 to June 7 in Halifax and Truro. Read all our profiles here as they are published, and for more information visit the Convocation website.
Olu Brown's (DDS'23) first encounter with the Faculty of Dentistry at Dalhousie was as a nervous patient needing several fillings.
The story could have turned out very different differently, but Brown says that she and her dentistry student Wade Power (DDS'07) worked through the treatments together.
"He improved my dental IQ and decreased my dental fear. And I just fell in love with this place," she says with her big smile. That was in 2006.
The start of a beautiful – and very long – relationship

At the time, Brown was a psychology student at Dalhousie University, trying to decide between becoming a nurse or a psychologist. But her connection with Dal goes back much farther.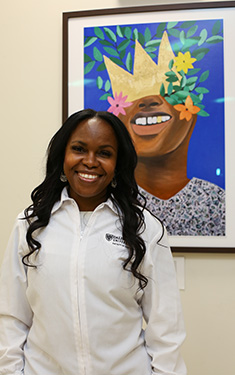 As a student at Highland Park Junior High, Brown was selected to attend a week-long math camp for African Nova Scotian kids, which gave her the opportunity to live on campus and attend classes.
"It opened my eyes to university and university life," says Brown. "Nobody in my family had gone to university and I had no idea there was this world out there."
Brown returned to campus in 2001 to take the Transition Year Program for African Nova Scotian and Indigenous students. "The idea is that it helps you bridge the gap between high school and university," says Brown. "It was a deep dive into our history – who we are and why, and why education is so important. It was really great for me."
Nearly four years later, Brown was reaching the end of her BSc in psychology when her trip to the Dalhousie Dental Clinic opened her eyes to the world of oral health. She began to take the prerequisites for the diploma in dental hygiene program and her application was successful.
The process may sound straightforward, but Brown was also caring for her young daughter, born was Brown was 18, and working in blood collection in the Dickson Building at the QEII Health Sciences Centre. "I'd work 6:00 to 8:00 a.m. and then run across to class in the Dentistry Building at 8:00."
Brown says she loved dental hygiene and the feeling of belonging to a profession. But after graduating in 2009 and a year of practice, she came back to take the recently introduced bachelor of dental hygiene (BDH) degree program. "I wanted the degree – the full package," she explains.
The BDH program exposed Brown to outreach clinics in schools and, most memorably, at Mount Hope Hospital where she cared for patients with mental diseases. Brown realized she wanted to help people who live in long-term care facilities.
The process of packing and unpacking instruments and supplies each week and travelling to the hospital gave Brown a solid foundation for her mobile dental hygiene business, which she launched in 2011, shortly after the dental hygiene profession became self-regulating.
Successful right out of the gates, she worked with United Way and travelled between clinics at schools and different special needs and youth groups. Brown operated her mobile business for nine years, until COVID-19 brought it to an end.
Recommended reading:
Grad profile -- Going for goals
Exciting beyond what she imagined

By then, however, Brown was back at the Faculty of Dentistry. The initial spark Brown had felt when she first visited the Dalhousie Dental Clinic in 2006 had not gone away. "I loved dental hygiene, but part of me wasn't satisfied. I wanted to do more for my patients." Her mentor and role model, Dr. Barb Hamilton-Hinch, also encouraged her.
"I am ambitious," she admits. "I enjoy achieving the impossible and being uncomfortable doing so. Becoming the first doctor in my family and starting a legacy for them is really important to me."
With her daughter more independent, the time felt right. Brown assembled the credits she needed for dentistry and continued to operate her mobile clinic until she was accepted on her second application.
In 2019 Brown was back at Dal again as a first-year dentistry student. She was already familiar with hand skills and patient care, but the science involved in dentistry was a whole new world for her. "I was blown away by evidence-based medicine, the intricacy of the human body, and the link between the oral cavity and overall health."
Working in the outreach clinic at the North End Community Health Centre was another highlight. "Most of the patients were people from my home community," she says, "including some of the friends I grew up with."
She also recalls the moment she delivered her first denture. "It's so exciting to be able to give a patient new teeth and a smile," she says. "After eight or nine appointments, you've built a relationship with them and you're nervous and happy for this moment in their life."
Brown loved the spirit and supportiveness of the class, too. "When I was in dental hygiene, the world was a different place," she explains. "I was one of two black kids in my class. I felt really isolated."
Fast forward nearly 20 years and her class is made up of students from a wide range of ethnicities and backgrounds. "I can't imagine a better group of people. I never felt I was a part of something as much as I do now," she says.
Now 43, Brown thinks her student years have come to an end. She'll begin working at the Bible Hill Dental Clinic this summer, and she and some of her classmates plan to create a website to help students from minority backgrounds find the educational information and resources they need.
And, because she loves "this place" so much, Brown would love to return to Dal — again — to teach.