This article is part of a series focusing on the grads of the Dalhousie Class of 2023. Spring Convocation runs from May 29 to June 7 in Halifax and Truro. Read all our profiles here as they are published, and for more information visit the Convocation website.
Francesca Sivilotti had decided on her goal to go to law school a long time ago, and she's been taking advantage of every opportunity that could help reach that goal.
She graduates this spring from the Faculty of Arts and Social Sciences with a Bachelor of Arts in Law, Justice and Society (LJSo), as the student with the top GPA in that program, with minors in Economics and Psychology.
Originally from Kingston, Ontario, Francesca says the LJSo program was a big part of her decision to come to Dal. The program gave her the chance to learn about the law through the perspectives of four different fields (history, philosophy, political science, and sociology & social anthropology), each shedding light on different aspects of the justice system. She says her minors, on the other hand, have allowed her to explore her fascination with human behaviour.
"Studying human behavior and the law through these wildly different lenses has opened my eyes to how little I know, which only makes me more determined to learn more," says Francesca. "I joke that I have one sixth of a degree in six different fields, but I saw my undergrad as the perfect time to dive into multiple interests before I specialize in law school and beyond."
Seeing the system through experiential learning

In her final year of study for her BA, Francesca took the political science course Practicum in Public Policy, where she gained experiential learning through a practicum placement with the Nova Scotia Legal Aid (NSLA) office. She adds that she has always been interested in criminal justice and this was a chance to spend a semester seeing the system and its agents in action. She shadowed lawyers who represent economically disadvantaged persons facing legal matters.
"I learned firsthand about the mental health crisis driving many people's contacts with the justice system, about the issues surrounding bail and release conditions, and about the access to justice crisis, despite the efforts of organizations like NSLA", she explains. "I was deeply impressed and inspired by the NSLA lawyers I worked with; empathy, patience, and a strong value system are crucial to being functional professionals within a sometimes-dysfunctional criminal justice system."

Getting involved and keeping focused

In addition to her impressive academic achievements, Francesca has been very active in campus and community life.
She's been a board member and volunteer for the Loaded Ladle, an LSAT tutor, a Teaching Assistant for the French department, the Head of Advising for The 90% Society (Dal's eating disorder recovery society), a responder for the Dalhousie Student Union Sexual Assault Phone/Text Line, a court reporter, a fundraiser for the Canadian Cancer Society's Relay for Life, and a member of the Dal Dance Society and Environmental Sustainability Society. She also attended the Atlantic Undergraduate English Conference this past March (where she presented a piece of creative writing) and was a finalist for Dalhousie in the most recent Rhodes Scholarship competition.
On top of all those activities, she was also a member of the Dalhousie varsity rowing team, which she describes as a life-changing experience and the most significant part of her time at Dal.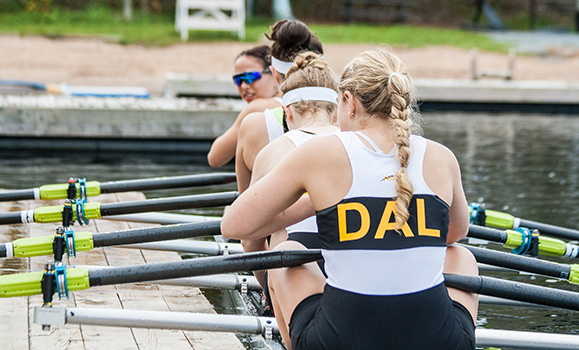 "I came in with virtually zero rowing experience during the post-COVID season," says Francesca, adding how fortunate she has felt to have been able to train under incredible coaches and to benefit from the mentorship and friendship of teammates who believed in her and helped her realize what she's capable of as an athlete, including being part of a team representing Dal at Atlantic and Canadian championships.
"The Dal rowing team is a unique environment where virtual newbies to the sport share the lake — and often even share a boat — with rowers who compete at the provincial, national, and even international levels," she says. "When I show up to practice every day, I don't worry about the fact that most of my teammates are faster than me. I focus on what I can learn from them."
Francesca adds that she feels incredibly lucky to have had so much on the go throughout her undergrad. "Being busy is an ongoing challenge, but it's also a privilege, and it's so much easier to manage when you know what you're working towards."
That goal she's been working towards has been realized. In the fall, Francesca will begin studies at the University of Pennsylvania Carey Law School, where she'll be starting in the Juris Doctor (JD) program as a Silverman-Rodin Scholar. This scholarship provides full-tuition for the first year in law school, half-tuition for the second year, and one third tuition funding for the final year of law school (or approximately $140,000 USD) with selection based on academic achievement and demonstration of leadership — accolades Francesca has certainly achieved.