This article is part of a series focusing on the grads of the Dalhousie Class of 2023. Spring Convocation runs from May 29 to June 7 in Halifax and Truro. Read all our profiles here as they are published, and for more information visit the Convocation website.
Bridgette Norwood grew up experiencing different societies and cultures. She was born in Texas, grew up in Victoria, B.C. and spent her last two years of high school in Toronto.  Having experienced living on the west coast and in central Canada, it was not surprising that her curiosity of regional lifestyles and cultures would take her to the east coast to attend university.
Bridgette came to Halifax and Dalhousie with a plan to go into psychology; however, she found that her true passion and strength was in sociology.
"The goals and perspectives of sociology and social anthropology (SOSA) not only align with my academic interests but [also with] my personal values," says Bridgette, who graduates from the Faculty of Arts and Social Sciences this spring with a Bachelor of Arts (Honours) degree in Sociology and a minor in Psychology.
Bridgette says the SOSA department at Dal has been immensely supportive in her endeavours as a student and in helping her identify and succeed in her interests, which led her to pursue an honours degree.
Questioning gender gaps in community


For her honours thesis research, Bridgette sought to understand and highlight the experiences of those of marginalized genders in the Halifax skateboarding subculture.
When she was young, growing up in B.C., Bridgette skateboarded, but she stopped when she moved to Toronto and was adjusting to the larger city environment and was focused on fitting into a new and unfamiliar high school. But since moving and getting settled in Halifax, she's picked it up again, adding, "I believe what drew me to skateboarding was the sense of alternative activity, mobility, and community." 
However, even though skateboarding encouraged community, Bridgette noticed that there were evident gender disparities in terms of who was present at the skatepark and within the participation of the overall culture.
"In addition, there were apparent gender discrepancies in the ages that individuals began, how individuals interacted, and who dominated what spaces," she explains. "My observations and personal experiences are what truly sparked my interest in researching this topic. As skateboarding was created with no rules, confinement, or authority, the subculture was born out of conflict with the establishment, societal norms of space, and typical standards of masculinity. So, I wondered if these are the ideologies of this subculture, then why are there such large gender gaps in skateboarding?"
Bridgette chose this subject for her thesis as she always had an interest in skateboarding and its culture but was hesitant to get involved with the community, adding that when discussing this topic with some friends, she realized she was not the only one who experienced this.
During her time in Halifax, Bridgette skateboarded at the Halifax Commons skatepark quite infrequently, as she had trouble feeling comfortable in the spaces there. Her thesis research included participant observation at the skatepark and semi-structured interviews with members of the subculture of various gender and non-binary identities. She adds that her experiences within the skateboard community in Halifax largely reflected those of her thesis research participants.
"I found that there are gender barriers within this hyper-masculine setting that are disguised through the somewhat superficial support of gender diversity within the subculture," she says, adding that the experiences and stories shared by her participants offered critical insight into the gender dynamics of the Halifax skateboard community.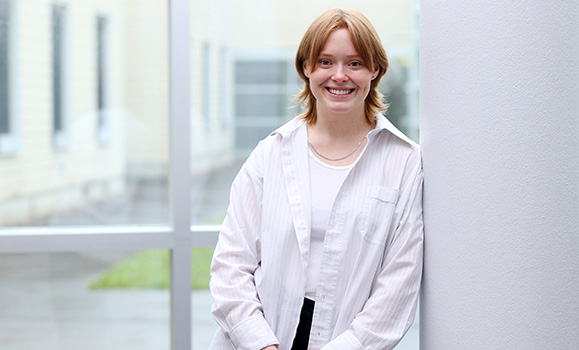 Recognition for research

Bridgette's research efforts received departmental and national recognition. She has been named recipient of the Reverend H.S. Prince Prize, awarded to the "extraordinary undergraduate student" who shows the highest level of mastery and commitment to sociological research, reflected in both their GPA and their Honours thesis. And, she has been named a recipient of the Canadian Sociological Association's (CSA) Outstanding Graduating Sociology Student Award.
Bridgette says she has found a real interest in the research process and completing an honours thesis provided her with the opportunity to refine her sociological research skills; skills she will continue to use over the summer months as she works as a research assistant for SOSA Associate Professor and Undergraduate Education Coordinator, Dr. Martha Radice.
Now a graduate with a Bachelor's degree to her name, Bridgette will take some time off from school but hopes to pursue a Master's degree in Sociology in the future. In the meantime, she is proud of her academic achievements so far, saying, "The honours also gave me a sense of accomplishment to apply all I had learned and conclude my degree."