Tammy Mercier is proud of the work she's doing at Atlantic Central, the organization that represents and supports the credit unions of Nova Scotia, New Brunswick, Newfoundland and Labrador, and Prince Edward Island.
"As manager of Sales and Member Experience Training," she explains, "I work with almost 2,600 staff across the credit unions in all four Atlantic provinces designing and facilitating training programs as well as coaching executive and leadership teams." 
It's a role that's taken on a life of its own, thanks to Mercier's enthusiasm and dedication. And thanks to the skills and confidence she gained through the certificate in Adult Education (now the certificate in Adult Learning Fundamentals) she completed at Dal's Faculty of Open Learning and Career Development (OLCD).
"All my past accreditations gave me one part of what I needed. I have a finance degree and I have a political science degree and I've been a coach. But I hadn't actually learned to teach. I needed that teaching piece. The certificate with Dal was a pretty incredible experience. It's changed my whole career."

"Folks, I'm out of here. I got accepted to the fire department."—Mike Hall (supplied photo)

It's been nearly 30 years since Mike Hall began working with the St. John's Regional Fire Department. He laughs when he remembers how he found out he got the job. The Memorial University (MUN) administration office called him from class to pass along the good news message from his dad.
"I went back to my lecture and just walked in and said, 'Folks, I'm out of here. I got accepted to the fire department. I'm done.' So that was it. They all started clapping and applauding. Maybe there's still a locker back in university with my stuff in it. Because I don't think I cleaned it out."
For decades, Hall focused on his day-to-day work in the ranks of the fire service and never looked back. That changed when he, once again, got a message from his dad.
"I remember my dad coming over one time and he said to me, 'Did you ever hear about the guy who kept smashing himself in the head with a hammer?' I said, 'No.' He said, 'People used to ask him why do you keep doing that to yourself? And he said, Well, it feels so good when I stop.' He said, 'You're that guy. You know, it's time for you to grow up, take the reins of your career, and dig in.' So, I took that advice."
Hall returned to MUN to complete a project management certificate and then he spoke to his director in the fire department about becoming part of the management team. She told him to consider a Fire Leadership program to help him round out his skills. Hall's search brought him to OLCD for the Certificate in Fire Service Administration, a nine-course online program to help fire service officers develop their administrative and managerial skills.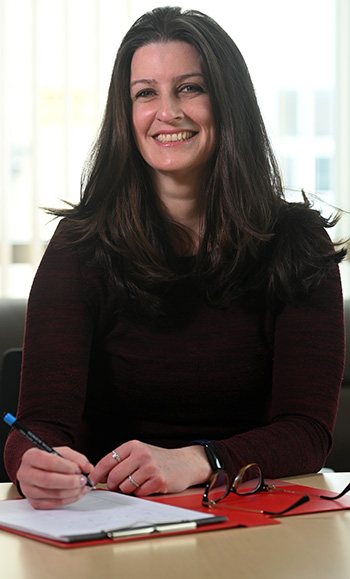 Genevieve MacIntyre turns toward her computer screen and clicks open the bookmarks that take her to the concepts she wants to remember from the microcredential certificates she recently completed.
"I refer to these daily. They're reminders of what I've learned. And reminders of what I didn't know. There was a phrase that Crystal [the instructor] kept using in the program: 'You only know what you know, and you don't know what you don't know.' It's good to be aware that you don't know everything. All you can do is just keep learning."
MacIntyre is the manager of communications, marketing, and student engagement with Dal's Faculty of Arts and Social Sciences. She considers herself a lifelong learner and when she saw that OLCD was offering microcredentials that resulted in a certificate in equity, diversity, and inclusion, she knew it would be a great fit.
"Every day I create and prepare materials for diverse audiences. I also work with teams across the university and externally. It's important for me to have awareness of the histories and contemporary issues facing people in marginalized groups. I wanted to take the program to help guide my knowledge of how best to feature, engage with, and present opportunities to people from diverse audiences. And, when I'm called on to be part of hiring committees within my faculty, having the knowledge of equity, diversity, and inclusion is also important."
Microcredentials are one of the newest offerings from OLCD. They allow learners to achieve specific skills or competencies valued by employers. Successful completion is verified with digital badges that can be shared on social media and added to resumes.
"Having the badges on my profile shows my drive to keep learning and expanding my knowledge. It's nice to have proof of it. It's a way to show
that I achieved another dimension to my knowledge, another form of education and certification."
MacIntyre says completing the microcredential courses in equity, diversity, and inclusion have helped her be more mindful of the impact her words might have on others. She also left the program with connections she didn't have before.
"Everyone was there for the same sort of reasons. We all wanted to grow our knowledge, to do better at what we're already doing, to learn what we don't know, and to share our experiences. There were a few other people from Dal in our cohort, people from across the province, the country—as far as Alberta—and beyond. It was just nice to connect with people from other places and in other industries and roles. And it was a safe space where everyone felt comfortable asking each other questions, and everyone was very respectful." (Daniel Abriel photo)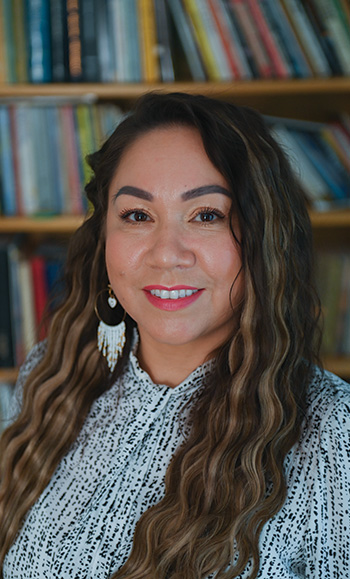 Tara Van Lunen can't help but smile as she walks shoulder to shoulder with other Dal students rushing off to class. At first, she thought she would go back to school to expand on her background in business. But after she was accepted into the Transition Year Program (TYP) offered through OLCD, she started feeling a pull in a different direction.
"It was around the time the missing children were found on the residential school properties. So, with that in the news, and because I'm Indigenous myself, I started to change my mind. I decided I wanted to do something different. To be more hands on in the community."
Now Van Lunen is studying sociology at Dalhousie, with her sights set on getting into the social work program. She also plans to complete a minor in Indigenous Studies. When she looks back, she says it was taking those first few steps that were the most challenging.
"It was definitely a scary decision, but I felt 100 per cent supported in TYP. I just had a sense of fitting in. I mean, it's intense—it's six courses—but they prepare you and encourage you. Two of my professors nominated me for two different committees at Dalhousie. I've never been on a committee before. I've never felt this supported before."
Launched in 1970, with the goal of increasing the successful participation of Black and Indigenous students at Dalhousie University, TYP was exactly what Van Lunen needed to restart her academics, and the program has continued to give even after she completed it.
"Because my final grade average in TYP was good, my Dalhousie tuition has been waived. So now, if I want to go four years, five, six, seven, whatever it might be, it's absolutely free of cost. Getting rid of that burden right there is huge. And that helped me want to kick it up and do really well. Even though I was stressed out and it was a lot of work, it was like I could see that end goal and see a better life for me and my son." (Daniel Abriel photo)
The Faculty of Open Learning & Career Development has been offering accessible and transformative learning journeys at Dal for close to 40 years. As demonstrated by its name change in 2021, it's continually evolving to meet the needs of its learners, to prioritize inclusion, and to fulfill its commitment to lifelong learning. More than 500 courses are offered, either individually or as part of a certificate, and OLCD supports learners in achieving goals that range from preparing for university to improving English-language skills to taking the next step in their career.
Full Circle
When she decided to take on the certificate in Adult Learning Fundamentals, Mercier was also a single mom working 40-plus hours a week, so it was quite a commitment. But she could see the opportunities all around her, so she decided it was well worth the short-term pain. Mercier soon realized her classes were filled with people who were also pursuing success while living a full life.
"I didn't realize what I was looking for until I came into this group of amazing people from diverse cultures, backgrounds, and even careers. We all kind of went through this really unique evolution together and it was it was pretty amazing, and the possibilities were endless."
She says the program has helped her build upon her successful years in the wealth management space, taking her career to a whole new level.
"It truly gave me credibility, for one thing. But it also gave me the bones or the framework to be able to say, 'okay, this is how I see the learning sessions working,' so I was able to create this training program because of what I learned at Dal. Every year it's growing and I'm adding products to the shelf and creating new tools. It allowed me to really open up this creativity that I didn't even know I had."
Hall is currently finishing up the courses he's taking to earn the Certificate in Fire Service Administration. He's enjoying brushing up on all the budgeting, planning, and management skills he'll need to succeed at the next level of his career. And he's going to be completed faster than he originally expected.
"Chris [Fevens, project manager with OLCD's Recognition of Prior Learning] told me they might be able to give me some credit for prior learning. He told me I might get a full course or even two, but I could apply for up to three. I really put a lot of work into giving a real solid presentation in terms of who I am as a person, my learning background, what I've done, what I've seen, so they could really springboard me here. Within six weeks of the process, he came back and said, 'I've got some great news for you. We're going to give you full credit for all three courses you've applied for.' I said, 'You've got to be kidding me!' He said, 'Nope! You're one of the very few that we're going to give full credit to.' From nine courses down to six. That changed the whole dynamic of this."
For Van Lunen, coming to Dal was a matter of trusting her instincts and putting aside some of her past experiences to make room for her future success. For her, that leap of faith in herself has really paid off.
"I learned to believe in myself. And to believe in my ability to do well, even under pressure. I never really gave myself the credit. Or I would just give up easily. But there was just something about the TYP program and the support that I got that made me know that I could do it. Now I have confidence in myself."