Back to Old Dalhousie as in days of old—  
Back to Alma Mater and the Black and Gold—  
The memories of our college growing brighter  year by year—  
Here's to old Dalhousie ever to her children dear. (ca. 1921)
As part of Dalhousie's 1924 reunion weekend, the Alumnae Association staged a pageant featuring co-eds' fashion across the decades, beginning with 1881, when women students were first admitted at Dal. (We can assume that the young ladies holding the 1934 placards were forward thinkers.)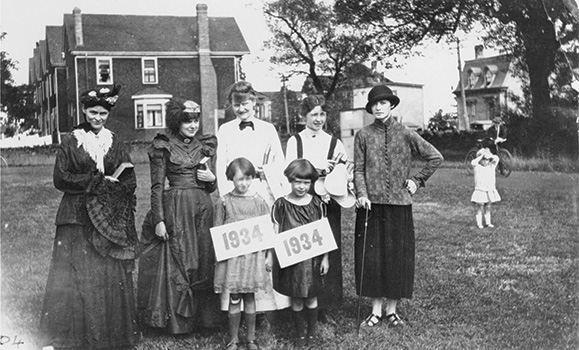 The official reunion program also listed a harbour excursion, athletics, band concert, hodge-podge supper and campfire in Sherriff Hall Grove, an alumni procession from the site of the former college at Halifax's Grand Parade up to Studley Campus, and a closing ball in the new campus gymnasium. The associated dance card suggests that efforts were made to satisfy both the most venerable alumni (Class of 1869!) and the newly capped graduates, and included waltzes, one- and two-steps, a racy foxtrot and a "Paul Jones" easy mixer.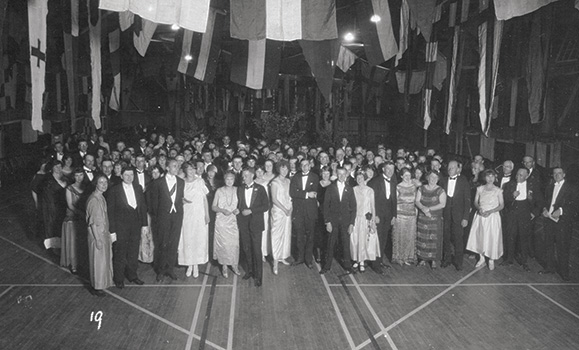 The Alumni Association, founded in 1871 to promote Dalhousie's best interests and to "foster an affection for one another and for our Alma Mater," held annual meetings, usually followed by the ubiquitous "smoker"—a fuggy evening of songs, speeches, and cigarettes—and sometimes more formally with a dinner at which local alum hosted the graduating class. While individual classes might organize their own annual reunion dinners, collective gatherings were less frequent. 
A 1903 "Alumni at Home" was reported to be Halifax's event of the year, with more than 800 attendees dancing in the law library and tucking into a midnight supper. In 1911, some 200 former students convened to kick off the association's first major fundraising initiative—the Dalhousie Forward Movement—which helped pay for the new Studley campus. The 1919 reunion celebrated the centenary of Dalhousie's founding with a parade from Barrington Street up to the newly built Sherriff Hall, complete with a float bearing a model of the original Dalhousie College building. And in 1938 the association held a "monster reunion" to celebrate another centennial—100 years of continuous teaching.
Learn more about Dal's University Archives at dal.ca/archives